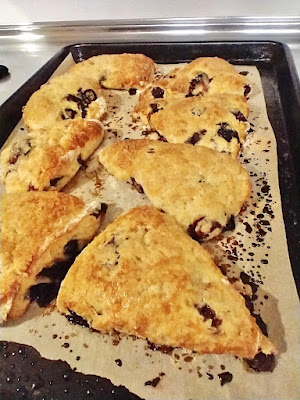 Blueberry lemon scones are a delicious treat for
brunch or a coffee break. (Photos: Debbie
Arrington)
Scones are like buttery biscuits with less work. Kneading or over-stirring makes tough, chewy scones instead of a treat that melts in your mouth.
Using a food processor to cut the butter and lemon zest into the dry ingredients creates a finely textured crumb with tiny bits of lemon flavor in every bite. Blueberries (fresh or frozen, defrosted) add bursts of juicy flavor.
Treat this sticky dough gently to keep it tender. That includes when folding in the blueberries.
Blueberry lemon scones
Makes 8 servings
Ingredients:
2 cups all-purpose flour
1 teaspoon salt
1 tablespoon baking powder
2 tablespoons white sugar
2 tablespoons lemon zest, finely grated
6 tablespoons butter, cut into 6 pieces
2 eggs
¾ cup plain yogurt
1 cup blueberries
Flour for dusting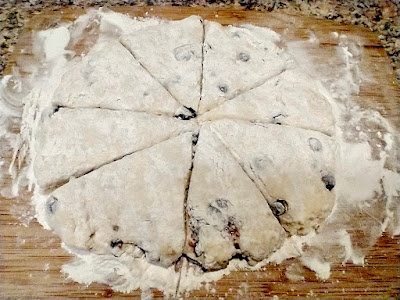 Pat flour-dusted dough into an 8-inch round.
For egg wash:
1 egg
1 tablespoon water
3 tablespoons Demerara or white sugar
Instructions:
Preheat oven to 450 degrees F.
In a food processor, mix together flour, salt, baking powder, sugar and lemon zest; pulse to combine.
Add butter; pulse until butter is combined with dry ingredients; about 20 pulses. Set aside.
In a large bowl, beat 2 eggs. Add yogurt and combine with a few quick strokes. Add dry ingredients, mixing just until combined to form a sticky dough. Gently fold in blueberries.
Put dough on lightly floured board. With floured hands, gently pat dough into an 8-inch round about 1 inch thick. With a floured knife, cut round into 8 wedges.
Transfer wedges onto baking sheet lined with parchment paper.
Make egg wash. Beat remaining egg together with 1 tablespoon water. With a pastry brush, brush egg wash over top of wedges. Sprinkle Demerara or white sugar over egg wash.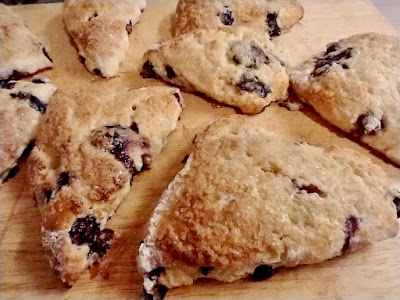 Serve the baked scones warm.
Bake scones in a 450-degree oven until golden brown, about 12 to 15 minutes.
Remove from oven. Let cool for 5 minutes on baking sheet, then transfer to a rack. Let cool for 10 more minutes, then serve.
Serve warm.