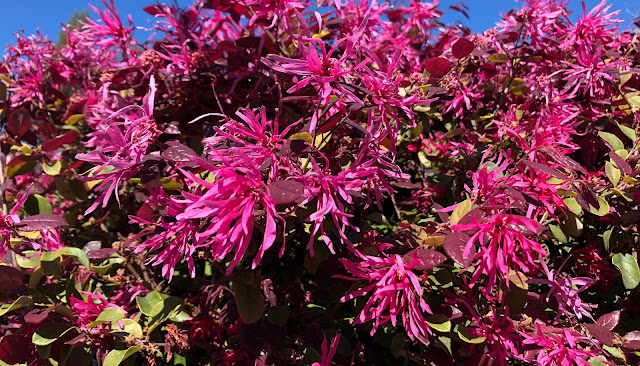 Loropetalum is a beautiful landscaping shrub that's at its best in spring. Learn
about landscaping, vegetable growing and more during Saturday's Spring Garden Faire in Roseville. (Photo: Kathy Morrison)
Spring (and some say summer) will definitely be in the air this week. Need garden inspiration? Check out the Spring Garden Faire, hosted by the UCCE Master Gardeners of Placer County.
On Saturday, April 9, the master gardeners and other local garden experts will turn the Maidu Community Center into garden central with activities and advice for the whole family. Hosted by Roseville Environmental Utilities, the event will focus on home gardening and the many ways residents can keep their landscapes healthy, beautiful and water-wise.
Part of the event will be fun hands-on things to do. Learn how to make seed pots out of recycled materials. Propagate a succulent and take it home. There also will be a crafts corner specifically for kids.
Demonstrations and speakers will cover such topics as straw bale gardening, backyard beekeeping and water-wise landscaping. Vendors will offer plants, garden art and supplies. Master gardeners will supply plenty of advice.
Need rose help? Sierra Foothills Rose Society will host an information booth.
Food trucks will offer hot dogs, tacos and other lunch fare. Stay all day!
Hours are 9 a.m. to 3 p.m.; admission is free.
Maidu Community Center is located at 1550 Maidu Drive, Roseville.
Details: https://pcmg.ucanr.org/