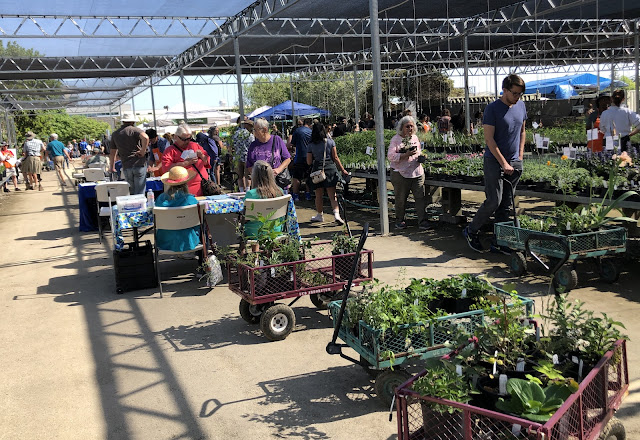 The Arboretum Teaching Nursery plant sales always drew a good crowd before the pandemic. Above is a sale from April 2019. In-person sales return this month with the first on Saturday. (Photo: Kathy Morrison)
If you want access to Arboretum All-Stars and other water-wise garden gems, it's time to join the Friends of the Arboretum. This spring, that's the only way you'll be able to shop the UC Davis Arboretum's fantastic selection of drought-tolerant flowering plants.
More changes – and construction – are happening at the UC Davis Arboretum Teaching Nursery, the hub of the arboretum's wildly popular plant sales. The current construction project – the creation of an indoor-outdoor multipurpose learning center – has restricted the nursery's space and patron access.
So, instead of a series of public plant sales, the arboretum will host only two members-only events, scheduled for Saturday, April 9, and April 30. Both in-person sales will be 9 a.m. to 1 p.m. and restricted to members of Friends of the Arboretum.
The Arboretum Teaching Nursery is located on Garrod Drive across from the Vet Med complex.
Before the pandemic, the arboretum's plant sales attracted more than 8,500 patrons annually.
"Thank you to both our Friends members and community customers who, over the last two years, supported our plant sales as they moved online due to the pandemic," the arboretum staff posted on its website. "During this time, the Arboretum Teaching Nursery transitioned from a location designed for seasonal public plant sale events to a pick-and-pull warehouse, prepped for fulfilling hundreds upon hundreds of orders.
"We are incredibly grateful for your willingness to put your trust in us and dive in. Together we adapted to a new process, so we could continue providing the attractive, low-water, region-appropriate plants our community has come to expect and you could provide their forever homes!
"Today, the nursery is transitioning again! It's under construction! A large portion of the Arboretum Teaching Nursery is currently allocated to building the Elizabeth Mary Wolf Environmental Learning Center, a new education space that will offer expanded opportunities for community engagement thanks to its indoor-outdoor multi-purpose room."
The solution? Bring back in-person plant sales, but restrict them to two members-only events.
"With Covid restrictions easing and our nursery team adjusting to navigating the temporary construction zone, we are taking this season to focus on thanking our loyal Friends members, whose support has kept us going strong for more than half a century," said the arboretum staff. "For these reasons, both spring sales will be member appreciation sales."
Current members receive 10% off their plant sale purchases in addition to receiving a free plant as a member appreciation gift.
Not a Friend? No problem. Sign up (either in advance or at the gate) and receive a $10-off plant sale coupon as a thank-you gift.
Member benefits include plant sale discounts, discounts at partner nurseries and retailers, free entry to gardens and museums nationwide and more.
Sign up for membership and find a list of current plant inventory at https://arboretum.ucdavis.edu/plant-sales .