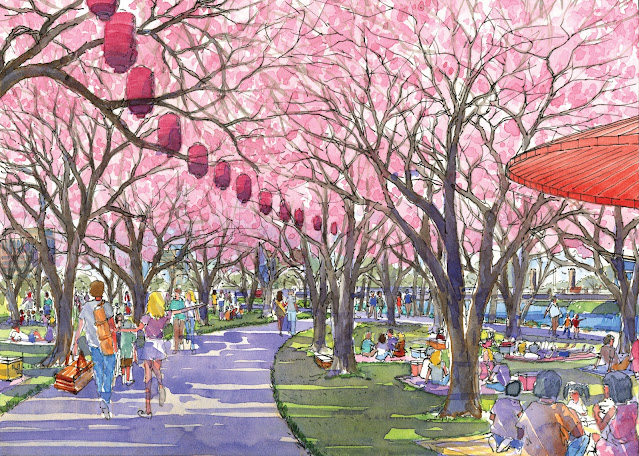 An artist's rendering shows what the Hanami Line will look like when the cherry tree grove is in full flower. (Courtesy Sacramento Tree Foundation)
A special place to celebrate cherry blossom time is coming to Sacramento's riverfront.
This week, the Sacramento Tree Foundation unveiled plans to transform a lawn overlooking the Sacramento River into a Hanami Line – a gathering place framed by rows of flowering cherry trees.
To be part of Robert T. Matsui Waterfront Park just north of downtown Sacramento, the grove will include an artistic walkway, grassy areas, benches and public art – a lovely setting for public gatherings and individual enjoyment.
The Hanami Line (pronounced hah-nuh-mee) is expected to open in 2023 with its first blooms next spring.
According to the foundation, "The Hanami Line will combine Sacramento's love of trees with the rich cultural heritage of this region. In cities across the world, people celebrate the arrival of spring by gathering with loved ones under the cherry blossoms. In Japan, this tradition is known as hanami and draws thousands of families to picnic, play, and relax in its parks."
Sacramento's Hanami Line could become a spring destination for both residents and visitors. Besides cherry blossom time, the space also could be used for year-round recreation, community events and festivals.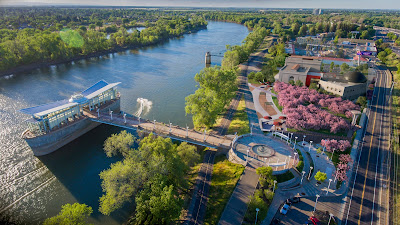 The pink trees in this rendering show where the Hanami Line
will be installed near the Sacramento River.
The project is expected to cost just under $7 million. So far, more than $6.3 million has been raised toward that goal including a combination of philanthropic gifts, a $500,000 commitment from UC Davis Health, support from the City of Sacramento, and a Clean California grant from Caltrans, says SacTree.
Congresswoman Doris Matsui, honorary co-chair of the Hanami Line capital campaign, is the widow of the late Congressman Robert T. Matsui, the park's namesake, and has been instrumental in making the Hanami Line a reality. She noted that Washington, D.C., also is famous for its cherry trees.
"We are a city of rivers and a city of trees, and the Hanami Line weaves both aspects of our civic character together," she said. "It will salute Sacramento's rich history and create a lasting connection with the cherry trees that bloom every year in our nation's capital."
This new grove will bring smiles for decades to come, noted Sacramento Tree Foundation executive director Jessica Sanders. "In the midst of all of the bad news over the past few years, let's come together to build something beautiful for Sacramento – a place where we can connect with loved ones and find respite in nature just blocks away from downtown."
Donations are still being accepted for this project. Visit sactree.org/hanami for more details.