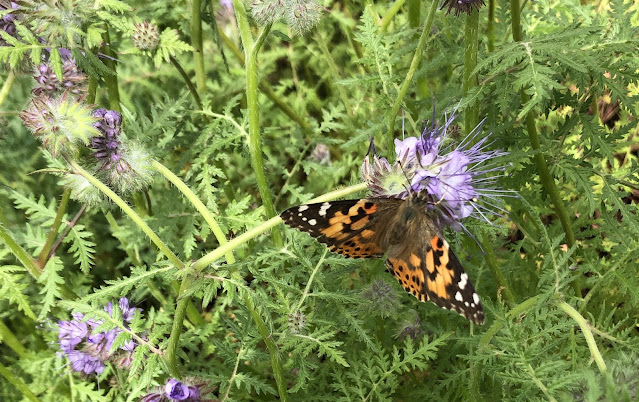 This painted lady butterfly has a thing for lacy phacelia, an annual herb and California native plant. (Photo: Kathy Morrison)
Such a busy time for gardens and gardeners! But we don't want the week to end before acknowledging California Native Plant Week, which runs through Saturday.
The California Native Plant Society, not surprisingly, leads the charge on this celebration. CNPS has posted seven inspiring videos on Californians who are "enriching lives and landscapes with native plants." One of the videos focuses on Sacramento's own Miridae Landscape Design and founder Billy Krimmel's home garden. Check out all the videos here .
CNPS also is the driving force behind the Bloom! California partnership with local nurseries around the state. In Sacramento, The Plant Foundry at 35th and Broadway is participating in the program; the informative booklet produced by Bloom! California is available there.
The booklet is a great guide to easy-to-grow California natives that do well in all areas of the state, including clarkia,  currants, phacelia, sage, toyon and yarrow. These natives and others also provide crucial habitat for birds, bees, butterflies and other pollinators and wildlife.
Celebrate the plants that are at home in our backyards and our wildlands -- and try planting some new ones this month.
-- Kathy Morrison
P.S. In addition to The Plant Foundry, great sources locally for native plants are the various master gardener plant sales and the UC Davis Arboretum Teaching Nursery plant sales. April 30 is the date for both the El Dorado County master gardener sale of ornamentals and the final Arboretum Nursery sale of the spring.