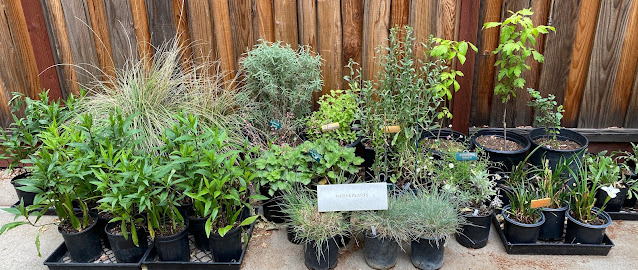 These beautiful native plants and much more will be on sale at the Organic
Gardening Club's plant sale Saturday in Carmichael. (Photo courtesy Organic
Gardening Club of Sacramento County)
The best way to assure gardening success? Start with good plants.
Find hundreds of possibilities Saturday, May 7, during the Organic Gardening Club of Sacramento County's annual spring plant sale.
To be held at the Carmichael Park Clubhouse, this big sale will feature a wide selection of native plants, succulents, flowering perennials and annuals plus great summer vegetables (particularly peppers and tomatoes). In addition, garden tools, garden art and other finds will be offered.
The native plants were propagated mostly from the club's Butterfly Garden, says club President Linda Sanford, and will help bring more wildlife into your landscape.
All these young plants were grown organically and locally – two factors that will help their adaptation to your garden. Club members also will be available to offer organic gardening advice. Such sustainable methods support bees and other beneficial insects while building soil health and contributing to a beautiful and bountiful garden.
Sale hours will be 9 a.m. to 1:30 p.m. Saturday; come early for best selection. Cash or checks only; admission and parking are free.
Proceeds go towards garden education for Carmichael-area residents as well as support scholarships for local students.
Carmichael Park Clubhouse is located at 5750 Grant Ave., Carmichael.
Details and more club information: https://www.facebook.com/OrganicGardeningClubofSacCounty
P.S. from Kathy: If you're already in Carmichael for the Organic Gardening Club sale this Saturday, swing by the Carmichael Community Parking Lot Sale at La Sierra Community Center,  just a few blocks away at 5325 Engle Road, from 8 a.m. to 1 p.m. The Carmichael Community Garden will have a booth with homegrown plants, including summer vegetables, Japanese maples, perennial flowers and succulents. All proceeds benefit the Community Garden, which I've been a member of since 2005. Several dozen other vendors, too!