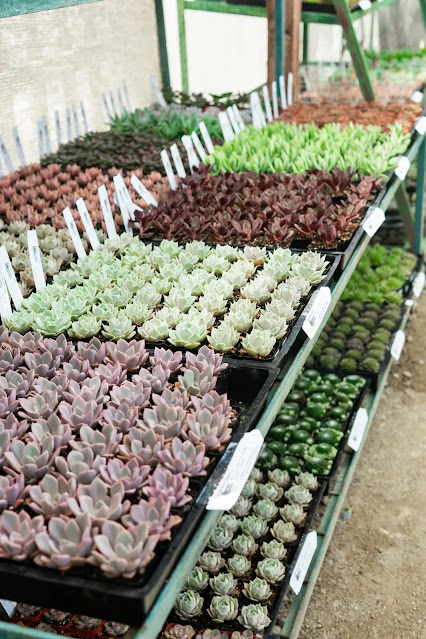 Succulents everywhere you look at The Secret Garden
during 'Succulent Extravaganza.' (Photo courtesy
The Secret Garden)
Succulents are having their star-turn moment, with more and more gardeners discovering these naturally water-wise plants. But not all succulents need the same growing conditions – particularly sun exposure. Although they have a reputation as a "desert" plant, many succulents shrink under full sun.
Discover the diversity of these wonderful plants during The Secret Garden's fifth "Succulent Extravaganza."
Set for Memorial Day weekend at the Elk Grove nursery and garden store, this event will showcase succulents and their close cousins cacti at discount prices.
"Join us for our fifth Succulent Extravaganza and experience the vast selection in both variety and sizes available," says Jennifer Khal, The Secret Garden's longtime owner and plant expert. "We hear it every day from our customers that we have the very best selection. During Extravaganza, our cactus and succulent selection is 15% off."
In addition to thousands of plants, learn how they like to grow and what conditions help them to thrive.
"Extravaganza is also about sharing our knowledge so you can be successful with your plants," Khal says in her event announcement. "Come prepared to take a self-paced learning tour through our 'sun exposure' zones so we can teach you about the different light requirements for succulent success in our Sacramento climate. We'll even offer you some 'Plant by Number' examples in each zone and share our design tips."
Thousands of succulents and cacti are in stock, all priced at 15% off. Terra cotta pottery also is on sale at 15% off.
Hours are 10 a.m. to 5 p.m. Saturday, Sunday and Monday, May 28-30. Admission and parking are free.
"We're pet-friendly and kid-friendly, too!" says Khal. "Enjoy the free lending library, scavenger hunts and places to sit and relax.
"Wear good walking shoes and consider bringing your own wagon or cart (to handle purchases)," she adds. "Plan to have a fully charged phone, too, as you will want to take lots of pictures to draw inspiration from."
The Secret Garden is located at 8450 W. Stockton Blvd., Elk Grove, just off Highway 99 south of Cosumnes River Boulevard.
Details and directions: www.secretgarden-online.com .