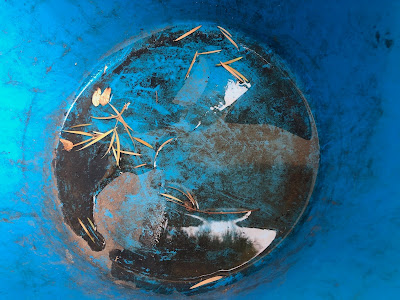 We received a little more rainfall than this in
December -- though not much more. The
"wet" months are starting, but conserving
water remains a top concern.
(Photo: Kathy Morrison)
It's official: 2020 was a very dry year in Sacramento.
Even though we closed out December with scattered showers, our overall rain total fell far short of average. According to the National Weather Service, Sacramento totaled 6.81 inches for the year – 11.6 inches below our average of 18.41.
Fortunately, 2019 was a very wet year, totaling 24.49 inches, and that moisture kept our reservoirs relatively full. And we have several "wet" months to come.
Some more good news: The New Year snowpack survey – taken Wednesday at Phillips Station near South Lake Tahoe – found the Sierra snowpack at 93% of average for Jan. 1.
Elsewhere around the state, the snowpack was much lower. According to the state's Department of Water Resources, electronic readings from 130 stations throughout the state indicate the statewide snowpack average at 52% of the Dec. 30 average.
Experts are optimistic about Sacramento's water picture for 2021.
"While the statewide snowpack demonstrates an unseasonably dry start to the rainy season, it's important to remember that our wettest months of the year are still to come," said Jim Peifer, executive director of the Regional Water Authority, the umbrella organization that represents 20 local water providers in the Greater Sacramento area.
"Overall, the Sacramento region's water supplies are in excellent shape. This is due in large part to the investments made over the past decade in our ability to switch between groundwater and surface water according to availability, and to move water between communities."
So, we're in pretty good shape now – as long as it rains in January, February and March.
"But we also know that California's rainfall is often feast or famine—with flood one year and drought the next," Peifer added. "Climate change is projected to make this swing happen more often and with more intensity: The wet days will get wetter, and the dry days will get drier."
We saw that in the almost 18-inch difference between 2019 and 2020 rain totals.
"Water managers are actively preparing for this future reality with a comprehensive water resilience portfolio—
the WaterFuture Initiative
—encompassing our entire 'supershed' from the mountain tops of the American River watershed to the groundwater basin below the valley floor," Peifer said. "Regardless of the weather, it's also important for residents to continue using water efficiently."
Two easy actions to take now: Turn off the sprinklers and check for leaks around the house.
"Give your sprinklers a winter break," Peifer said. "Winter's shorter and cooler days mean that yards won't need as much water as they did during fall and summer.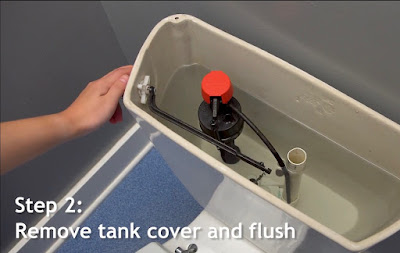 on replacing a leaky toilet flapper, among other water-saving
tips. (Screenshot)
"Take some time to fix household leaks, especially toilet leaks," he added. "A leaking toilet is the most common type of leak found inside the home and can waste 200 gallons of water per day. That's enough to wash seven loads of laundry every day for a month."
Make saving water your New Year's resolution. Get more water-saving tools and tips at
bewatersmart.info
.