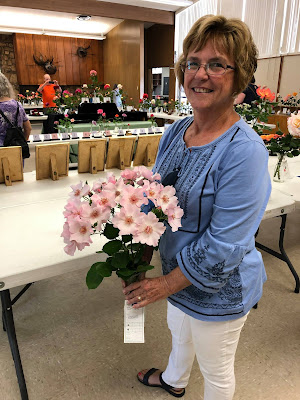 Charlotte Owendyk holds some of her award-
winning roses at a pre-COVID show. She's the
speaker at Thursday's meeting. (Photo
courtesy Charlotte Owendyk)
June is officially National Rose Month. And the Sacramento Rose Society is celebrating by returning to evening meetings – and the public is invited.
At 7:30 p.m. Thursday, June 10, the club will host its annual ice cream social (with pre-wrapped ice cream sandwiches) and a special presentation by master rosarian Charlotte Owendyk: Companion planting for roses.
For most of its 70-plus years, the rose society has held evening meetings, usually at 7:30 p.m. on the second Thursday of each month at the Shepard Garden and Arts Center. But that schedule, like all life, was seriously interrupted by COVID-19. Although its hosted some daytime and outdoor activities, the club has not held an evening meeting in 15 months.
Thursday's meeting will be held in the center's big room, which is well ventilated. Following the center's rules, the group will still observe social distancing and non-vaccinated attendees should wear face masks.
A popular garden club speaker, Owendyk will share her updated presentation on companion planting. What you plant with roses can make a difference, not only in the way your garden looks, but it's overall health. Some plants grow better with roses than others, and vice versa. Companions can have benefits, too; some plants naturally deter pests!
As always, the public is invited to attend. Bring a friend! Admission and parking are free.
As for Rose Month, here's a little history:
First decreed in 1959, National Rose Month was part of an effort to declare the rose as the official flower of the United States. Although it had a lot of momentum from that campaign and nationwide support, the rose didn't become America's official flower until 1986. Then-President Ronald Reagan signed it into law.
June's rosy ties go back much, much farther than Rose Month. The rose has long been the birth flower of June, making it an ideal gift to anyone celebrating a birthday this month. Rose Month also coincides with a favorite time for weddings.
Of course, it does! Roses have been a symbol of love and passion for centuries. The ancient Greeks and Romans have several myths attached to roses (most involving their goddesses of love).
Learn more with the Sacramento Rose Society. New members and guests are always welcome.
Shepard Center is located at 3330 McKinley Blvd., Sacramento, in McKinley Park.
Details and directions:
www.sgaac.org
.