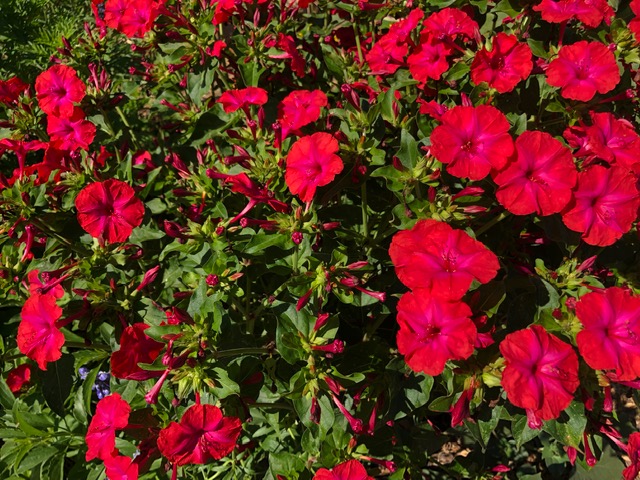 Four o'clocks brighten the summer garden. Feeding flowering plants every other week extends their bloom. (Photo: Kathy Morrison)
With or without the event, this is State Fair weather. According to the National Weather Service, Sacramento will see typical late July weather this week – some days over 100 degrees, others "just" in the 90s. In other words, it's the kind of weather that what we usually experience during the State Fair, which was canceled this summer due to the pandemic.
After a triple-digit weekend, some cloud cover and light breeze will cool us off a little Monday and Tuesday, keeping high temperatures in the low 90s. Then it's back to 102 on Wednesday and Thursday.
Concentrate on getting your garden chores done early, then try to stay cool.
* Keep your vegetable garden watered, mulched and weeded. Water before 8 a.m. to reduce the chance of fungal infection and to conserve moisture.
* After watering, fertilize vegetables and blooming annuals, perennials and shrubs to give them a boost. Feeding flowering plants every other week will extend their bloom.
* Feed vegetable plants bone meal or other fertilizers high in phosphate to stimulate more blooms and fruiting.
* Don't let tomatoes wilt or dry out completely. Give tomatoes a deep watering two to three times a week.
* Keep an eye on zucchini. Harvest squash promptly.
* Remove spent flowers from roses and other shrubs as they finish flowering.
* Pinch off blooms from basil so the plant will grow more leaves.
* Remove spent leaves and stems from daylilies.
* Cut back lavender after flowering to promote a second bloom.
* From seed, plant corn, pumpkins, radishes, bush beans, winter squash and sunflowers.
* Indoors, start seedlings for fall vegetable planting, including bunching onion, cabbage, broccoli, cauliflower, kale, radicchio and lettuce.