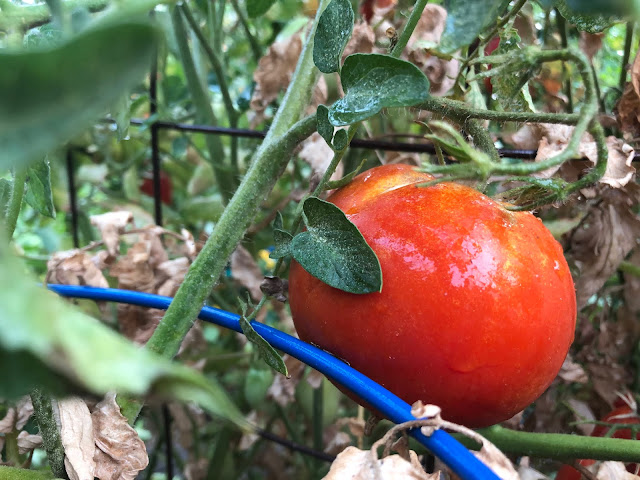 Keep harvesting tomatoes as they ripen; give the plants a spritz if they have a

lot of ash accumulated on them. (Photo: Kathy Morrison)


September brings cooldown and another planting season
Relief is on its way! August ends with another smoky triple-digit weekend. But September starts Wednesday with some much needed coolness and (we hope) cleaner air.
According to the National Weather Service, Sacramento will smolder through Sunday with a forecast high of 101. Then, light winds will start to blow away the haze and bring high temperatures down. By Wednesday, we'll be back in the mid 80s for the rest of the week.
Weather then will be ideal for setting out cool-season vegetables: Not too hot in the afternoon, but still warm and cozy after dark.
Wait this weekend, then get started in earnest on your fall and winter vegetable garden. Although there's plenty to keep busy, avoid outdoor activity during poor air quality.
* Keep harvesting tomatoes, peppers, squash, melons and eggplant.
* Pull plants that have finished producing and compost.
* Cultivate and add compost or other amendments to the soil to replenish its nutrients for the next season of vegetables and flowers.
* Fertilize deciduous fruit trees.
* Plant onions, lettuce, peas, radishes, turnips, beets, carrots, bok choy, spinach and potatoes directly into the vegetable beds.
* Transplant cabbage, broccoli, kale, Brussels sprouts, cauliflower, lettuce and other greens.
* Sow seeds of California poppies, clarkia and African daisies.
* Transplant cool-weather annuals such as pansies, violas, fairy primroses, calendulas, stocks and snapdragons.
* Divide and replant bearded iris as well as other rhizomes, bulbs and perennials.
* Dig up and divide daylilies as they complete their bloom cycle.