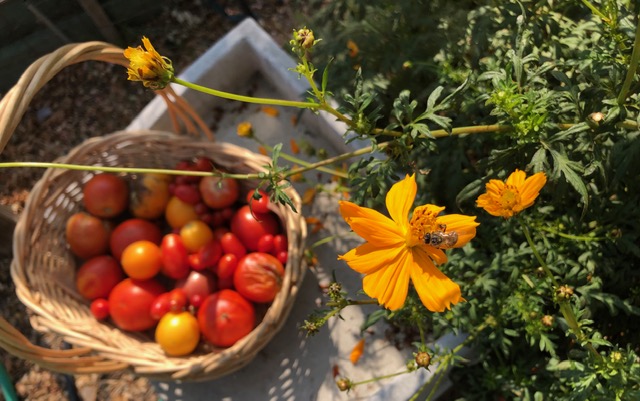 A honey bee harvests pollen from a Diablo cosmos blossom, not far from the tomato bed. Keep harvesting summer veggies to keep the plants producing. (Photo: Kathy Morrison)
Labor Day weekend marks the unofficial end of summer with another hot streak.
According to the National Weather Service, expect a string of hot days, topping out around 102 degrees on Monday. Some parts of the Valley will top 105.
It's a good weekend to take it easy and stay hydrated. That includes your garden, too. Water deeply and limit chores to early morning when temperatures will be coolest.
Starting Tuesday, we'll see temperatures slide back into the mid and low 90s. Friday's predicted high is only 89 degrees.
What's normal for September in Sacramento? For this week, 91 degrees (high) and 61 (low); for the month, 87 and 56, respectively. The all-time record is 108 degrees.
Chance of rain remains slight: Our average total for September is just 0.29 inches.
* September starts another season in the vegetable garden. Plan to plant for fall in the weeks ahead. The warm soil will get these veggies off to a fast start.
* Keep harvesting tomatoes, peppers, squash, melons and eggplant.
* Compost annuals and vegetable crops that have finished producing.
* Cultivate and add compost to the soil to replenish its nutrients for fall and winter vegetables and flowers.
* Divide and replant bulbs, rhizomes and perennials.
* Plant onions, lettuce, peas, radishes, turnips, beets, carrots, bok choy, spinach and potatoes directly into the vegetable beds.
* Transplant cabbage, broccoli, kale, Brussels sprouts, cauliflower, lettuce and other cool-season veggies.
* Sow seeds of California poppies, clarkia and African daisies.
* Transplant cool-weather annuals such as pansies, violas, fairy primroses, calendulas, stocks and snapdragons.