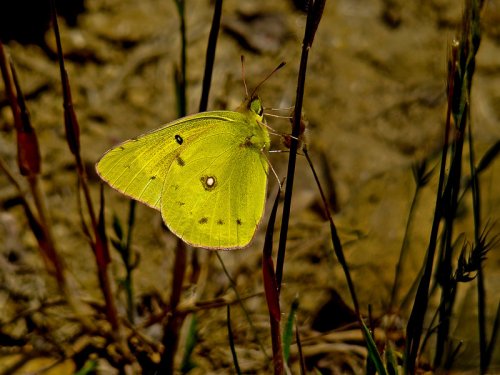 The Orange Sulphur butterfly often lives in alfalfa fields but disperses when the crop is harvested. (Photo courtesy Art Shapiro's Butterfly Website)
"Where did all these yellow butterflies come from?" My neighbors want to know.
Out of nowhere, thousands of brightly colored little butterflies suddenly appeared this week in Sacramento's Pocket and Greenhaven neighborhoods. Barely 2 inches across, these mini dazzlers flit over lawns and streets in crazy zigzag patterns. (A couple got stuck on my Volkswagen's grill.)
Were they migrating hundreds of miles like Painted Ladies or Monarchs? Did our summer heat cause a caterpillar explosion? Was this another sign of climate change?
No, most likely somebody just mowed a Yolo County field. And they're not really yellow – they're orange.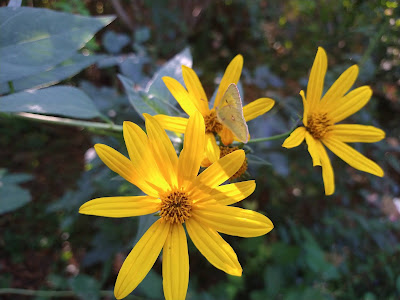 An Orange Sulphur butterfly rests on a sunchoke flower. (Photo:

Debbie Arrington)




Our colorful wave was a lot of displaced Orange Sulphur (
Colias eurytheme
) butterflies, according to UC Davis butterfly expert Dr. Art Shapiro, who had been contacted by more than one Pocket resident. "(It's) a very abundant species that breeds on cultivated alfalfa as well as various wild legumes," he said. "They disperse in all directions when the rancher cuts the alfalfa and then often show up in urban areas. I suspect the source is an alfalfa field across the river in Yolo County."
After their home is mowed down, the butterflies go looking for more food – particularly clover lawns. Nicknamed "Alfalfa Butterfly," the Orange Sulphur prefers flowers in the pea family – alfalfa, clover, vetch, lupine, etc. – but will feed on sunflowers and other members of the aster family as well as milkweed and other high-nectar flowers.
"They may (lay eggs) on clover in lawns but the larvae will not do any damage," Shapiro said. "The first generation or two in spring breed(s) on annual vetches (
Vicia
species). They switch to alfalfa when the vetch dries up."
That erratic, bouncing, up-and-down flight pattern is a way to avoid getting eaten themselves. Predators have a hard time grabbing them in mid-flight.
When feeding on a flower, Orange Sulphur butterflies usually keep their wings together, displaying menacing little "eyes" on the undersides of their wings. (That's another defense tactic.) While the underside has spots, the wings' topside usually has black borders, but that can vary.
With enough food and warmth, this butterfly species can remain active year round, making it one of our most common butterflies, Shapiro said. "This is also our most variable butterfly, seasonally and individually."
In winter, Orange Sulphurs are smaller with more subdued coloring. In summer, they're bigger and brighter. Another twist, many females are more cream-colored than orange or yellow.
In early autumn, they're most numerous – or appear that way – because that's when alfalfa is often harvested.
"By the way, the very similar
Colias lesbia
does all the same things in Argentina," Shapiro noted. "Dispersers from alfalfa in the Paraná Delta often show up in downtown Buenos Aires and visit flowers in window boxes on high-rise apartment buildings!"
For more on Orange Sulphur butterflies:
https://butterfly.ucdavis.edu/butterfly/colias/eurytheme
.