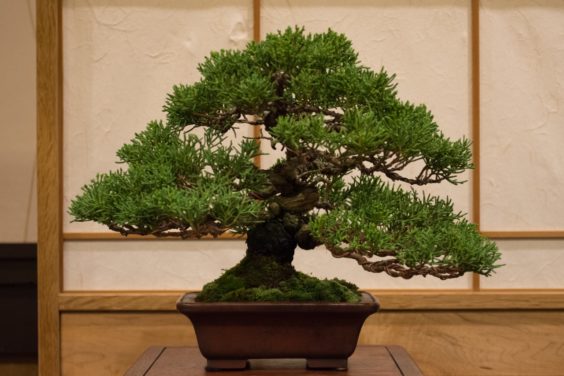 This is one of the bonsai trees tended by the late Gary Judd, who will be remembered this weekend with tributes at the Capital City Bonsai Association's 20th anniversary show. (Photo courtesy Sacramento Bonsai Club)
20th anniversary show set for Oct. 19 and 20 at Shepard Center
A special tribute to a pillar among little trees will be held at this weekend's Capital City Bonsai Association's 20th anniversary show.
Hosted by all four of Sacramento's bonsai clubs, this special show will be a tribute to Gary Judd, who served as president of the Sacramento Bonsai Club for 22 years. He also was a member of six bonsai clubs: American Bonsai Association, Sacramento, Sierra, Satsuki Aikokai, Bonsai Sekiyu Kai and Bay Island. Judd died Aug. 9. The longtime Rocklin resident was 79.
"Gary established the Capital City Bonsai Association 20 years ago with the show as a fundraising event to help support the new GSBF (Golden State Bonsai Federation) Bonsai Garden at Lake Merritt in Oakland," said the show organizers.
In Judd's honor, the Shepard Garden and Arts Center will be filled with a forest of little trees, some showing fall color. A few of Judd's own trees, which he masterly tended for years, will be displayed.
Show hours are 10 a.m. to 4 p.m. Saturday and Sunday, Oct. 19 and 20. Demonstrations will be offered at 10 a.m. and 1 p.m. both days. Admission and parking are free.
Shepard Center is located at 3330 McKinley Blvd., Sacramento.
Details:
www.sacramentobonsaiclub.com