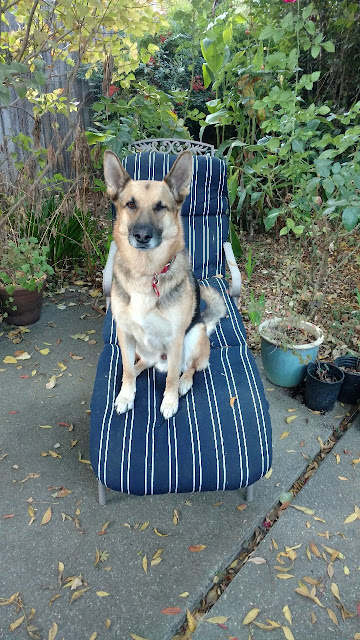 Rambo has his seat for a garden party --
or for supervising any outdoor activities.
Share your pet photos during
Dog Days of Summer. (Photo: Debbie Arrington)
Green Acres hosts annual pet-friendly garden party online
How do you celebrate August gardening with your four-legged best friend? With the Dog Days of Summer!
Continuing through Saturday, this week-long pooch-friendly garden party has been an annual staple at Green Acres Nursery & Supply, with customers invited to bring their dogs to the nursery for special events and presentations. (Treats, too!)
But with the COVID-19 pandemic, "Dog Days 2020" has gone virtual. While the nurseries are still open for customers, all the fun and games are online, via Facebook and Instagram.
"Each day, there will be a new
Facebook
prompt," say Green Acres staff on the nursery's website. "Follow the daily prompt to enter for your chance to win a Green Acres Nursery & Supply gift card for that day. Double your chances of winning by entering on
Instagram,
too."
The challenges are fun, pet-friendly and reflect the summer of 2020. For example, here was Monday's prompt:
"Share a photo of your dog being the most loyal co-worker."
As Green Acres notes, "We've been spending more time at home and that means more time with our dogs." So, pay tribute to that furry assistant.
Tuesday's challenge: "What's your favorite pet-friendly plant? We love sharing info about dog-friendly plants. ... It could be an old favorite, a new discovery, or even a houseplant."
Post answers in comments on Facebook and/or Instagram. Use #GAdogdays20 on your posts.
New challenges are posted daily through Saturday. The giveaway ($50 gift cards each day) ends Sunday with winners notified Monday.
Details:
https://idiggreenacres.com/pages/dog-days-of-summer