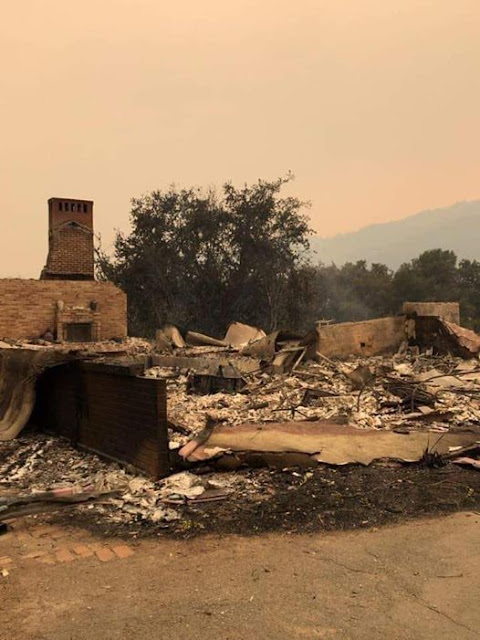 This is all that's left standing of the Richard family home
at the Pleasants Valley Iris Farm in Vacaville.
(Photo courtesy Pleasants Valley Iris Farm)



It's a small gardening world, especially in the greater Sacramento area. Our plants and love of gardening connect us.
So, when news broke that wildfire burned farms north of Vacaville, our thoughts went to two destination nurseries/farms along Pleasants Valley Road. One made it through the inferno; the other did not.
Pleasants Valley Iris Farm, home to the Richard family and more than 400 varieties of bearded iris, was devastated Wednesday by the fast-moving Hennessey Fire, part of the massive LNU Lightning Complex.
"We are OK but the Vacaville fires destroyed our home and everything we owned," posted Kendall Richard, who owns the 18-acre iris farm with her husband, Mark. "It happened so fast that we could only load one small car with our pets and a few boxes of photos and sentimental items. This is very hard for us."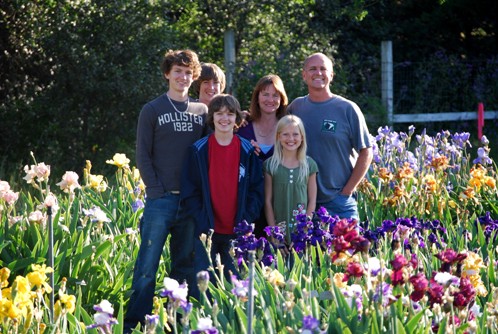 The Richard family has owned the Pleasants Valley Iris Farm since 2007.



Mark Richard, a longtime local real estate agent and agriculture advisory board member, posted on his Facebook page at nearly 2 a.m. Thursday: "Everything is on fire where we live. We are OK but Kendall had to get out quick. The entire Pleasants Valley is on fire. Grabbed pets, photos and videos and that's it. Power was out so evacuation phone calls did not reach everyone. Police racing up and down the road with sirens and loudspeakers, trying to evacuate people."
Opened in 2007, the Richard family business (
www.irisfarmer.com
) was in the midst of shipping orders to customers nationwide. Hundreds of posts on the farm's Facebook page expressed the grief of far-flung gardening friends.
"So sorry that this happened to you and your family," wrote Scott Brown. "Your flowers have brought great joy into my life. You will be in my thoughts and prayers."
"My gardens are filled with your beautiful iris from all these years," wrote Diane Alexander. "They will have a deep and more meaningful feeling in my heart as I look upon them now."
A little over a mile up the road from the iris farm is Morningsun Herb Farm, another destination nursery with customers throughout Northern California and nationwide.
Owner Rose Loveall posted a very scary Facebook update at 5 a.m. Wednesday: "We have evacuated from our beloved nursery and home. Fires everywhere and we know homes around us have burned. Not sure what we will go back to. Please pray for us. We have the dogs with us, but the donkeys and goat were released into the field across the street. I know the house across the road has burned, so we are praying they are safe. This is our worst possible nightmare for my family."
Late Wednesday night, Loveall shared the good news: Morningsun had survived.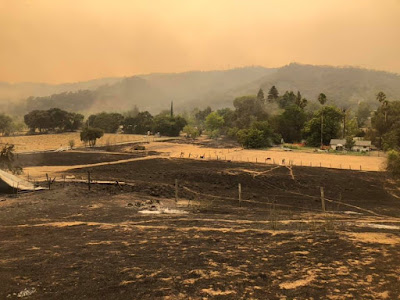 This is the scene across Pleasants Valley Road, looking toward
Morningsun Herb Farm, which survived the fire. (Photo courtesy
Morningsun Herb Farm)
"We are still here!" she posted. "So far, the nursery and our home and all the animals are doing alright. Very smokey and everything covered with ash, and we will lose some plants because we aren't able to keep up with the watering, but we have survived. We are at home tonight, ready to fight if needed but ready to go if the winds whip up."
What about their animals? The donkeys in particular are Morningsun celebrities.
"Donkeys and goat are still in the neighbors field, chickens seemed somewhat clueless to any problems, all cats accounted for and the dogs are worn out," Loveall added. "Some of my neighbors lost everything, it is heartbreaking. I have lived here since 1962, I have never seen anything like this."
Loveall recounted the devastation visible from her still-standing home.
"(The neighbors) lost two houses, a barn, most of their field and three alpaca. I'm not sure how we didn't burn with all of the trees around, but I swear my parents are watching over me and the farm."
Morningsun fans were overjoyed.
"I'm so happy for you," posted Jay Lan on Facebook. "A blessing amongst the rubble of life these days. My heart aches for your neighbors who've experienced such loss."
"I'm so grateful that you survived!" added Marlene Myatt. "I was so depressed all day! With Covid, it's been a slow year and I don't know what I would do without your plant source. You're so blessed!"
Due to the continuing fire danger and clean-up, Morningsun Herb Farm (
www.morningsunherbfarm.com
) is currently closed. Loveall asked customers to visit the farm's Facebook page for more updates,
https://www.facebook.com/Morningsun.Herb.Farm
.