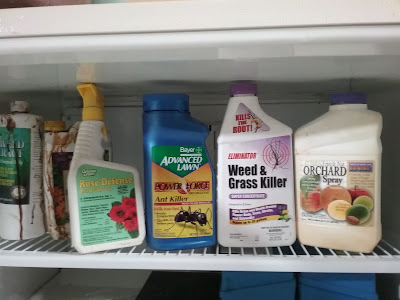 Do you know what you're spraying on your garden?
Learn about pesticides during a free webinar
from the UC IPM. (Photo courtesy Fred Hoffman)
What you don't know can kill you. When it comes to pesticides, that's particularly true.
By definition, these common chemicals are killers. Their intended target may be pests – bugs, mites and destructive critters of all kinds – but they can be extremely dangerous to people, pets and beneficial wildlife, too.
How do you handle these deadly chemicals? With care – and education.
Learn about pesticides – how to use them, store them, dispose of them and more – during a free webinar presented by the UC Statewide Integrated Pest Management Urban and Community Program.
Set for noon Thursday, Nov. 18, "Understanding Pesticides" also will include how to cut down on chemical use in the garden.
Karey Windbiel-Rojas
, associate director for Urban & Community IPM and an area IPM adviser for Yolo and Sacramento counties, will be the presenter.
"Pesticides can be a part of integrated pest management efforts to control pests around the home and landscape," say the organizers. "However, it is important to understand how to use them safely and effectively to protect human health, non-target species, and the environment. This webinar will cover pesticide basics including types of pesticides, understanding pesticide labels, and how to use them safely."
Registration is now open for this one-hour webinar and is necessary to receive the Zoom link. To sign up, go to:
https://bit.ly/3oi9hEZ
.