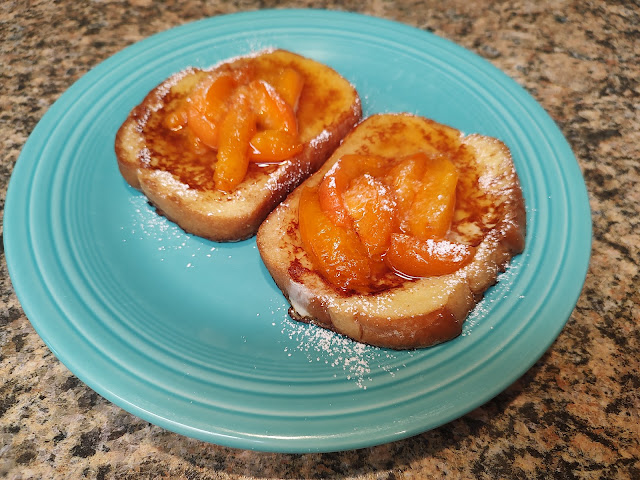 June in California tastes like apricots: Fragrant, sweet but with an edge. Delicate and distinctive, this golden fruit can be tart like a cherry, its close cousin, especially if picked too soon. The longer it hangs, the sweeter apricots get.
Apricots develop sugars only while on the tree. A piece of fruit may get softer after harvest, but not sweeter.
Of course, an apricot can stay too long on the tree – and turn to overripe mush (if the birds don't get it first). With apricots (as in many things), timing is everything.
So a perfectly ripe apricot is a precious thing. This simple sauce showcases just-right apricots. The little bit of almond extract (almonds being another close cousin) brings out the apricot flavor. Stir gently to avoid breaking apart the apricot slices.
This sauce also can top ice cream or pound cake. Or try it on the savory side, atop pork chops or grilled chicken.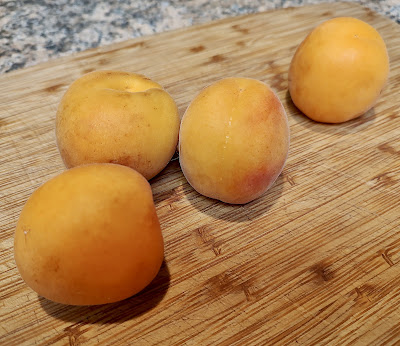 Apricots are in season, ripe and precious.
Apricot French toast
Makes 4 servings
Ingredients:
For sauce:
½ pound apricots (3 to 4 large), pitted
1/3 cup sugar
1/3 cup water
1 tablespoon lemon juice
¼ teaspoon almond extract
For toast:
2 eggs
¼ cup milk
1 tablespoon sugar
1 teaspoon vanilla extract
4 thick slices white, French or sourdough bread (day-old preferred)
1 tablespoon butter
¼ teaspoon cinnamon
Powdered sugar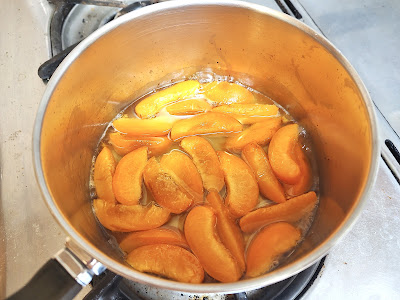 Simmer the apricots for 3 to 5 minutes.
Instructions:
For sauce: Slice apricots into eighths. Set aside.
In a heavy saucepan, combine 1/3 cup sugar, water and lemon juice. Bring to a boil and boil for 1 minute.
Gently add apricot slices to simple syrup. Over medium heat, simmer apricots until just tender, about 3 to 5 minutes. Remove from heat and gently stir in almond extract. Set aside.
While apricot sauce simmers, prepare French toast. In a shallow bowl or pie plate, beat together eggs and milk. Add 1 tablespoon sugar and vanilla extract.
Heat griddle or large pan. Melt butter. Dip bread slices in egg batter, covering both sides. Transfer slices to griddle or pan. Sprinkle cinnamon over each slice. Fry until golden brown, turning once (about 5 minutes total).
Transfer toast to plates and spoon apricot sauce over top. Sift powdered sugar over sauce and toast as desired.
Serve immediately.