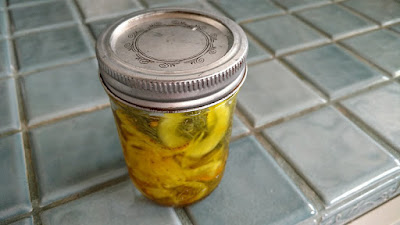 These homemade pickles are ready in a snap. The secret? They're zapped! It's a wonderful way to use up the last cucumber or zucchini of summer.
The microwave speeds up the pickling process, allowing the other ingredients to penetrate the vegetables. Instead of several days or weeks, these pickles are ready overnight.
This quick method keeps the cucumber's texture mildly crunchy. Bread and butter style, these pickles make a tasty addition to sandwiches (of course) or alongside sausages.
Jamie Sandberg, my sister, made this batch, adapted from various examples on
allrecipes.com
and her own experimentation. (Many thanks to her!)

I admit that I was shocked by the idea of microwaving pickles. I tend to think of cucumber pickles as work, submerging dill-size cukes in ice while boiling the jars.

This bread-and-butter method proved super easy. These pickles will keep in the refrigerator at least a month. But they never last that long; they're all gone quickly, too.

Zapped bread and butter pickles
Makes about 1 pint


Ingredients:
1 large (8-to 10-inch) cucumber, washed and sliced
1 medium white or yellow onion, peeled and thinly sliced
1 teaspoon kosher (non-iodized) salt
1 cup white sugar
1/2 cup white vinegar
1 teaspoon pickling spice
Instructions:
Scrub cucumber well and slice crosswise about 1/8-inch thick with skin on. Peel and slice onion.
In a large microwave-safe bowl, mix salt, sugar, vinegar and pickling spice. Add cucumber and onion slices. Mix well. Cover with plastic wrap, vented on one side.
Microwave on HIGH for 7 to 8 minutes, stirring twice. Cucumbers should be tender and onions soft and translucent.

Sterilize a pint jar (the dishwasher works fine). Transfer the pickle mixture into the jar and seal tightly. Chill in the refrigerator overnight before serving.

Note: For less sweet pickles, reduce sugar to 1/2 cup. Zucchini may be substituted for cucumber.
(Photo by Debbie Arrington)