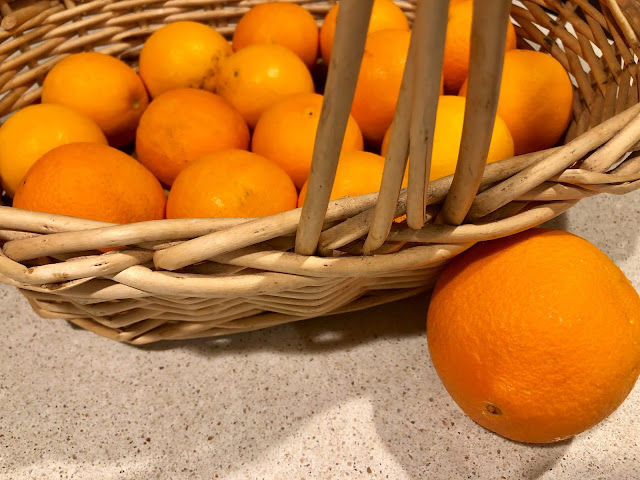 Use fresh orange zest and juice in a fast pasta sauce. (Photos: Kathy Morrison)
Recipe: Quick Italian recipe also features prosciutto
In the grey months of winter, I love being able to step outside and pick a bit of sunshine. My Washington navel orange tree is loaded with fruit this year, and I bring out the recipes I've stashed for just this season.
I found the recipe here in May 2011, in "The Italy Issue" of Bon Appétit. This type of sauce is from the Emilia region of Italy. The ingredients list is short, and the recipe looked quick. But oranges in pasta sauce? With prosciutto and cream? OK, worth a try once, right?
It became one of my favorite tomato-less recipes. The sauce does come together quickly once you have everything in place (or
mise en place
as they say in restaurants). It's not too orangey, not too salty, not too creamy -- just a nice balance.
I know this may not be for everyone. On the
Epicurious
site, where you still can find the recipe, some commenters mention how they added things to the sauce, or they found the orange too strong. (It's not, really.) If you're going to put in tomatoes or spinach, I feel, make something else -- don't doctor a recipe that's already lovely. And please no bottled orange juice or dehydrated zest; this is a celebration of fresh orange flavor.
The original recipe called for fresh tagliatelle, but I use the fresh linguine you can find easily in supermarket cold cases. Fettucine also is good. Prosciutto can be pricey at delis; I recommend the Trader Joe's house brand: $3.99 for 4 ounces. Bacon could work, but you'll have extra fat in the pan; better to use thinly sliced ham instead if you substitute.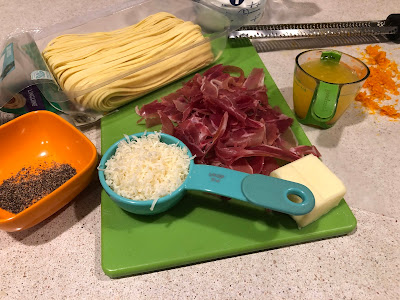 With all ingredients prepped, the cooking will go smoothly.
Important note: Prep everything first. Get the cream out, measure it and let it head toward room temperature; it will blend much better. Grate and juice your orange, shred the prosciutto, even grind the black pepper, because once you start cooking, it will go too quickly to stop.
Why doesn't the cream curdle when it hits the hot pan with the orange juice? I'm not a food scientist, but I suspect the butter works with the juice to neutralize some of the acids, and then the near-room-temperature heavy cream blends in last.
As written, this recipe works for four servings of a first course (or "primo" in Italian) or two generous American-style main courses. It also can be doubled.
Pasta with prosciutto and orange
Adapted from Bon Appétit, May 2011
Makes 4 first-course or 2 generous main course servings
Ingredients:
Kosher salt
12 ounces linguine, fettucine or other long pasta (fresh preferred)
2 tablespoons unsalted butter (do not substitute margarine or oil)
2 ounces thinly sliced prosciutto, torn into 1-inch pieces
Zest and juice of 1 orange
1/2 cup heavy whipping cream, allowed to sit out during prep time
Freshly ground black pepper
1/4 cup finely grated Parmesan cheese
Instructions: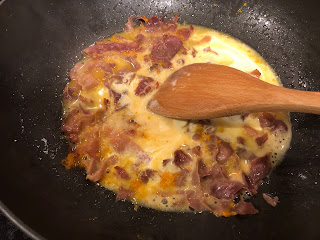 The cream goes in last when cooking the sauce.
Prep all ingredients before you begin cooking and have them nearby.
Bring a large pot of water to a boil. Season with salt; add pasta and cook, stirring occasionally, until 1 minute before it reaches the al dente point. This should be about 2 minutes for fresh pasta, longer for dried. Reserve 1/4 cup pasta water, then drain the pasta. Set aside while you start the sauce.
Melt the butter in a large, heavy nonstick skillet over medium-high heat. Add prosciutto; sauté until browned, 2-3 minutes.
Stir in the reserved pasta water, orange juice and zest, then add the cream; bring to a boil. Add the cooked pasta to the pan and stir until the sauce coats the pasta and pasta is al dente, about 1 minute. Season with salt and plenty of black pepper.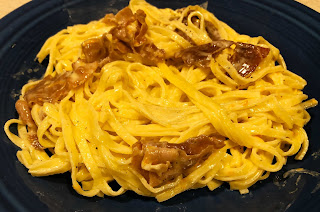 The finished dish. Sprinkle on more pepper or cheese if desired.
Stir in the cheese, and divide pasta among bowls or plates to serve.
Pasta deserves wine as an accompaniment. Serve this with a dry Italian pinot grigio (not one of those sweet domestic ones) or any other crisp dry white. A fresh green salad and maybe a baguette and you're good to go.