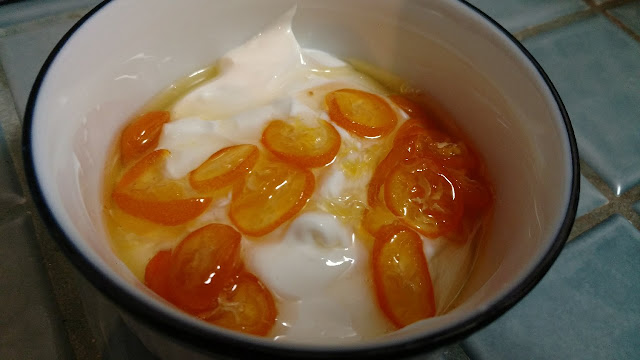 Easy kumquat sauce brightens up a dish of yogurt. The sauce also is good on chicken or pork chops. (Photo: Debbie Arrington)
Recipe: Simple, versatile kumquat sauce makes most of sweet-sour flavor
Kumquats can be addictive. These little gems are made to eat in one bite, the sweet skin complementing the sour juice inside.
A symbol of good luck and prosperity, kumquats are a common gift during Chinese New Year. They also grow very well in Sacramento, making them a popular addition to backyard gardens. Varieties with rounder fruit tend to have higher cold tolerance.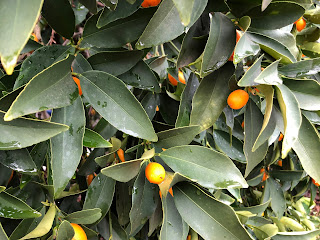 Kumquats grow well in Sacramento. This tree is
at the Fair Oaks Horticulture Center. (Photo: Kathy Morrison)
Compact like their fruit, kumquat trees can produce abundant mini-citrus crops to brighten winter days.  Like other citrus, kumquats can be as attractive as they are fruitful, a natural for edible ornamental landscapes. But unlike Meyer lemons or Washington navels, kumquats can be a puzzle.
What do you do with them? (Besides pop them in your mouth and spit out the seeds.)
Embrace their yin-yang nature and make the most of their sweet-sour flavor.
Like a thin marmalade, this simple kumquat sauce can serve as both sweet and savory. With this sauce's versatility, there's a lot to do with kumquats.
Atop dessert, it contrasts with the richness of cheesecake, ice cream or pound cake. Add a couple of tablespoons to a smoothie for a jolt of kumquat flavor.
As a glaze on chicken, this sauce adds a caramelized citrus crust. At the table, it complements pork roast or chops.
On Greek yogurt, it was simply delicious.
In a sealed jar, this sauce will keep at least a week in the refrigerator; up to a year in the freezer.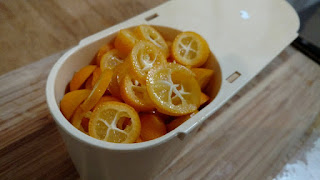 Slice the kumquats and remove seeds before cooking.
(Photos: Debbie Arrington)
Simple kumquat sauce
Makes 2 to 4 servings
Ingredients:
1 cup kumquats, sliced and seeded (about 16 whole)
½ cup sugar
¼ cup water
¼ cup orange liqueur or white wine
Instructions:
Gently wash kumquats, removing any stem. Slice crosswise, discarding seeds.
In a medium saucepan over medium heat, combine sugar, water and liqueur or wine. Stir until sugar dissolves. Add kumquats.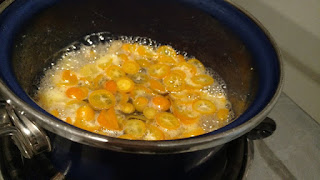 Bring the ingredients to a boil, then reduce heat and simmer.
Bring mixture to a boil. Reduce heat and simmer, stirring often, until kumquats are tender and sauce reduces into a light syrup, about 10 minutes.
Remove from heat and let cool. Serve warm or cold as dessert topping, over yogurt or as sauce for chicken or pork.
Note: This sauce will keep in the refrigerator at least one week.