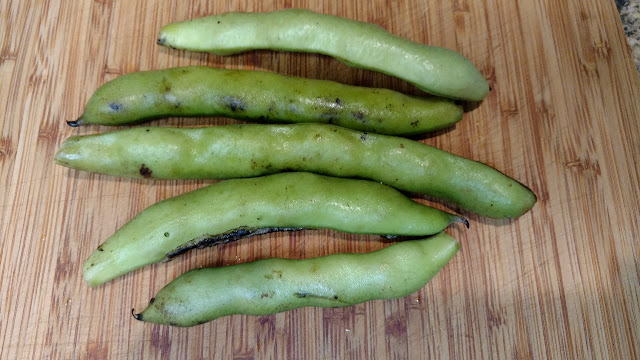 Late-season fava bean pods are long and fat. (Photos: Debbie Arrington)


Our mild (and wet) spring elongated the season of one cool-weather favorite: Fava beans.

I'm still picking favas and I know I'm not alone. By late season, favas produce huge pods, 6 to 8 inches long and fat as thumbs. As big as they are, these pods contain only four or five beans. It usually takes 2 pounds of pods (or more) to produce 2 cups of beans.

Favas rank among the most time-consuming beans to prepare. First they must be shelled. Then, the individual beans should be skinned, especially when fully mature. (The skin has a bitter aftertaste.)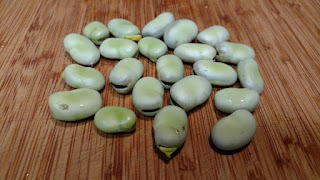 Those big pods yield this many beans. They still need to be skinned.
But the result – the naked, emerald-green inner bean -- melts in your mouth.

To remove the skins, use this method: Bring a large pot of lightly salted water to a boil. Plunge shelled beans into the boiling water. Boil for 2 to 3 minutes.

Remove the beans from the boiling water and plunge them into a bowl of cold water. Wait a few minutes, then peel the beans. Use your thumbnail or a paring knife to nick the bean's skin, then the skin will slip right off.

Even with this trick, expect it to take 20 minutes or more to peel 2 cups. Is it worth the effort? If you love favas, yes!

This is my favorite way to cook fava beans. Besides serving as a side dish, it also doubles as fava spread for crostini.

The romaine lettuce blends with the bright green of the beans and provides some extra moisture as the vegetables cook. If substituting scallions, use the green parts, too; it just intensifies the green.

To be truly Roman-style fava beans, add ½ cup chopped prosciutto with the beans. Otherwise, consider these favas Roman-inspired.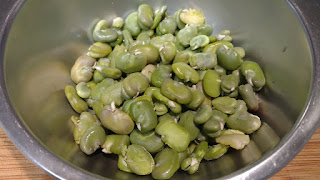 These are shelled, skinned and ready to cook.
Roman-inspired fava beans
Makes 4 side-dish servings

Ingredients:
2 tablespoon extra virgin olive oil
1/2 cup onion or scallions, finely chopped
2 cups shelled and skinned fresh fava beans
4 or 5 grinds freshly ground pepper
1 cup romaine lettuce, shredded
1/2 cup water
Salt to taste

Instructions:
Heat oil in a heavy saucepan over medium heat. Add onions and sauté until translucent.

Add shelled and skinned fava beans. Sauté, stirring often for 2 minutes. Grind pepper over beans and stir in lettuce.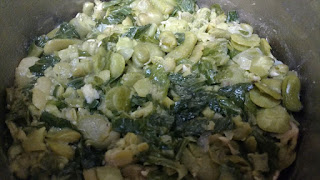 Ready to serve.
Add water and cover; bring to boil. Turn heat down to simmer and cook until beans are tender, about 10 minutes. Salt to taste (if at all).

Note: Mash leftover beans and use as spread on crostini.