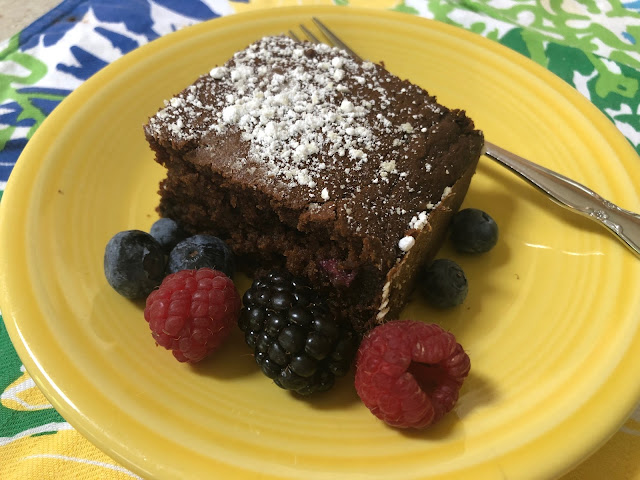 Zingerbread makes a fine dessert with blueberries in the cake and more berries alongside. (Photos: Kathy Morrison)
It's time to shake the dust off the zucchini recipe collection. A gardener's favorite squash is back in season.
We've had several good recipes on the blog already, including our two biggest hits: Chocolate zucchini bread and Zapped pickles.
But the plants are going to be producing for awhile, so we like to provide new options for The Squash That Keeps on Giving.
This recipe, adapted from " The Classic Zucchini Cookbook," brings together zucchini and gingerbread, which I usually associate with fall and winter. But add some blueberries to the mix, like I did, and it becomes a great picnic cake, a brunch offering or a vehicle to show off even more summer fruit. Whipped cream, ice cream, fruit sauce -- all good.
Serves 12
Ingredients:
3 cups grated zucchini (from two 8-inch squash)
1 teaspoon salt
3 cups unbleached all-purpose flour, plus more for pan
3 to 4 teaspoons ground ginger (it's quite spicy with 4)
2 teaspoons baking soda
2 teaspoons ground cinnamon
1/4 teaspoon ground allspice
1/2 teaspoon ground nutmeg
1 cup (2 sticks) unsalted butter, softened, plus more for pan
3/4 cup packed light brown sugar
1/2 cup molasses (light or dark)
2 eggs
1 cup hot brewed coffee
1 to 1-1/2 cups blueberries, washed, dried and tossed with 1/2 tablespoon flour
Powdered sugar, for garnish
To serve alongside, optional:
Whipped cream, vanilla ice cream, fresh berries or other fruit, applesauce, lemon sauce or any freshly made fruit sauce
Instructions:
Combine the grated zucchini and salt in a colander, stirring to mix. Set aside to drain for 30 minutes.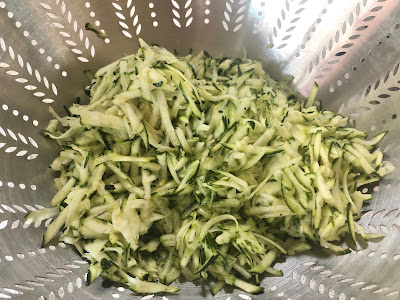 The grated zucchini drains for 30 minutes.
Preheat oven to 350 degrees. Butter and flour a 9-by-13-inch baking pan.
In a medium bowl, whisk together the flour, ginger, soda, cinnamon, allspice and nutmeg. Set aside.
Put the butter and light brown sugar in large mixing bowl. Cream the butter and sugar, then add the eggs one at a time, beating well until combined. Add the molasses and mix well. Don't worry if the mixture appears curdled.
Using a clean dish towel, squeeze the excess moisture from the drained zucchini, and add the squash to the bowl, blending just to combine. Add the flour mixture alternately with the coffee, mixing just until combined.
Gently fold in the flour-coated blueberries. Pour the batter into the prepared pan, smoothing the top.
Bake for 30 minutes, or until the top springs back when touched and a toothpick or thin knife inserted near the center comes out clean.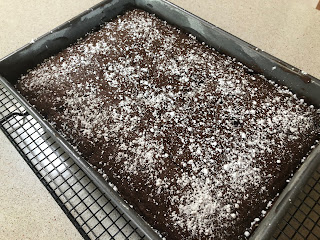 Cool the cake on a rack before cutting.
Sprinkle powdered sugar over cake. Cool the cake on a wire rack 10 minutes before cutting. Or let it cool completely and serve at room temperature.
Serve plain or with any of the suggested accompaniments.