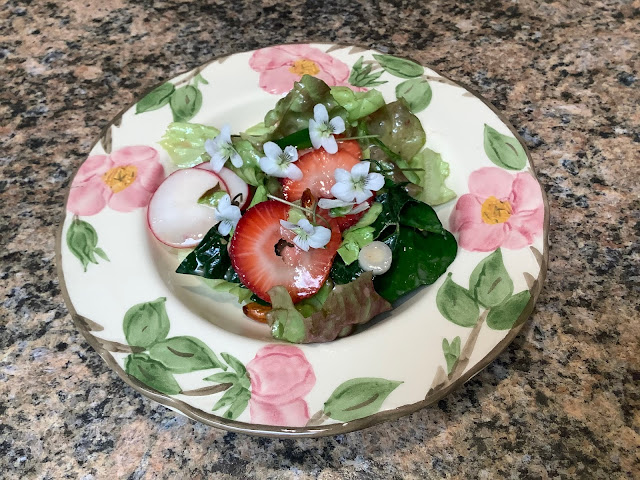 As fresh and pretty as spring: Strawberry salad with fresh violets. (Photos: Debbie Arrington)
This vibrant spring salad is as flavorful as it is colorful. Both cut crosswise, fresh strawberries and radishes contrast nicely in both taste and texture. They look especially pretty combined with the rich greens of fresh spinach and leaf lettuce. (The variety used in this recipe: Red butterhead.)
The garnish is a conversation starter: Fresh violets. The white and blue varieties of
Viola
are edible.
Viola alba
, the white perennial violet, is native to America's woodlands. It's a cast-iron ground cover in low-water gardens. It grows so easily, many gardeners consider it a weed. If you can't beat it, eat it.
(Just make sure your violets haven't been exposed to pesticides or herbicides.)
Pick your violets with about ½ inch of stem. Plunge flowers immediately into ice-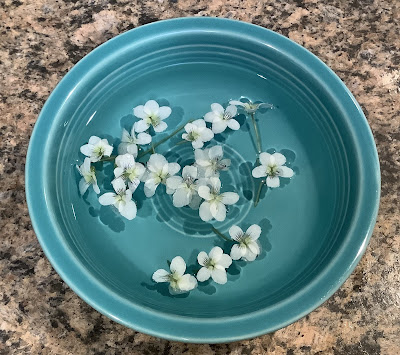 Put just-picked violets into very cold water to keep
them fresh.
cold water. Keep them in cold water until ready to use.
Other varieties of
Viola
may be substituted for violets; the smaller the varieties, the tastier.
Spring strawberry salad with fresh violets
Makes 2 to 4 servings

Ingredients:
4 to 6 strawberries, hulled and sliced crosswise

2 radishes, sliced

1 scallion, chopped

2 tablespoons slivered almonds

2 cups lettuce, roughly cut or torn into pieces

1 cup baby spinach leaves, roughly cut or torn into pieces

Dressing:

3 tablespoons extra virgin olive oil

1 tablespoon red wine vinegar

1 teaspoon Dijon mustard

½ teaspoon sugar

¼ teaspoon seasoning salt

Garnish:
2 to 3 tablespoons fresh violets or violas (optional)

Instructions:

In a large bowl, put sliced strawberries, radishes, scallions, lettuce and spinach. Toss lightly.

In a jar, combine olive oil, vinegar, Dijon mustard, sugar and seasoning salt. Cover jar and shake to combine. Pour dressing over salad and toss lightly again.

Divide salad onto plates. Garnish with violets or violas.

Serve immediately.