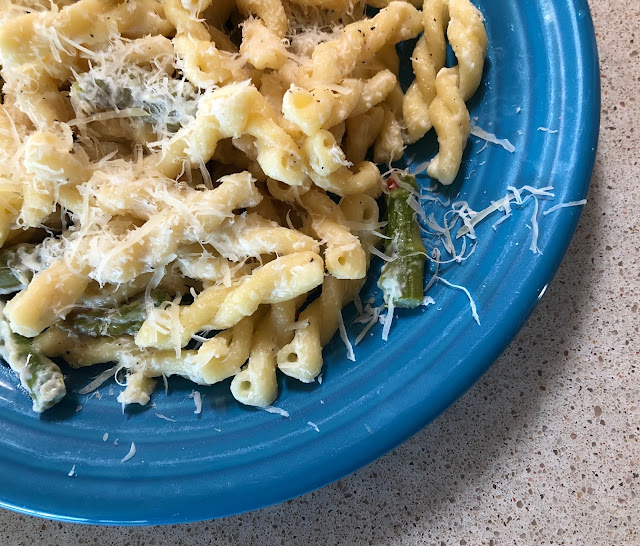 This pasta recipe goes together quickly and makes a spectacular lunch dish.
(Photos: Kathy Morrison)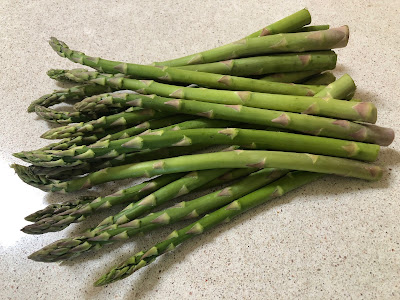 That's a pound of spring right there, pre-trimming.
Go ahead, get more asparagus. It's the height of the season and there are plenty of ways to cook it.
This dish features asparagus that's on the thinner side, because it cooks quickly in the same water later used for the pasta. The sauce doesn't cook at all -- how easy is that?
I blended the sauce in my food processor, but you can use an immersion blender or even a hand mixer to get it nice and smooth. Versions of ricotta and pasta are all over the place, but this one -- adapted freely from a New York Times version -- has a nice bite, with red pepper flakes and lemon cutting through the richness of the sauce. Be sure to use whole-milk ricotta, however, for the best texture.
Not a fan of asparagus? Fresh peas would work just as well, and be equally spring-like.
Pasta with asparagus, ricotta and lemon
Serves 4
Ingredients:
3/4 to 1 pound skinny spears of asparagus (or 1 cup of peas)
Kosher salt
1 pound dried short pasta, such as penne, gemelli or farfalle
1 cup whole-milk ricotta cheese
1 cup freshly grated Parmesan cheese, plus more for serving
1 tablespoon freshly grated lemon zest plus 1/4 cup lemon juice (from 1 or 2 lemons)
Freshly ground black pepper
1/8 to 1/4 teaspoon red pepper flakes, or to taste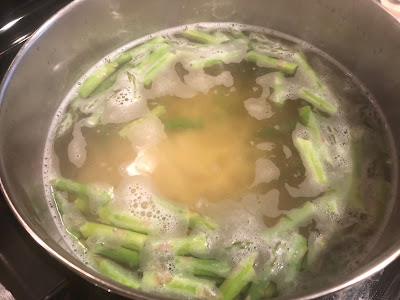 The skinny asparagus pieces cook quickly.
Instructions:
Bring a large pot (at least 4-quart size) of water to boil. Trim the asparagus spear ends, then cut the spears into 2- to 3-inch pieces. Add the asparagus to the water and cook just until tender -- this will go quickly, so don't walk away.
Lift the asparagus out of the water with tongs or a slotted spoon and set it in a colander to dry a bit, then put the asparagus in a bowl and set aside. Don't dump the water from the pot! Bring it back to a boil and add a touch of salt, then add the pasta. Cook pasta according to package directions to al dente. Save 1 cup of the pasta water, then drain the pasta.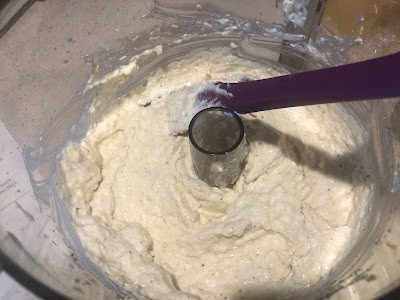 The sauce is blended in a food processor.
While the pasta is cooking, make the sauce: In a food processor (or with another method noted above) blend together the ricotta, 1 cup of the Parmesan, the lemon zest and juice, 1/2 teaspoon salt, 1/2 teaspoon freshly ground pepper, and the red pepper flakes. Blend in 1/2 cup of the pasta water.
When the pasta is cooked and draining, pour the sauce into the still-warm pot. Add the pasta, stirring gently to blend, and the cooked asparagus pieces. Add a bit more pasta water as needed.
Serve immediately, topped with more Parmesan and freshly ground pepper.