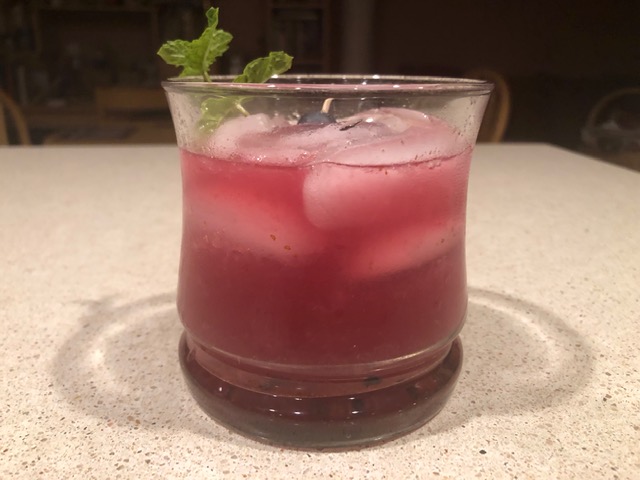 Now doesn't that look refreshing? Blueberry Smash, coming right up. (Photos: Kathy Morrison)
No, no, no, no and nope -- not going to turn that oven on. Not until the A/C is fixed, anyway, and that's a week off. (Another pandemic effect.)
In the meantime, all these gorgeous blueberries are out there. How to use them in a new way that does not involve baking?
Well, I found a great little cocktail recipe that makes the most of the fruit, and also lets me use the excellent cocktail shaker than my son gave me last year. (I taught him to cook, but he's way ahead of me on cocktail making.) If you don't have a shaker, use a small deep bowl or glass measuring container to mix this in, and have a wire strainer at hand.
I used bourbon as the alcohol base, but vodka, tequila or white rum also would work -- whatever floats your boat. Or, for a nonalcoholic version, skip the liquor addition, and finish the drink with ginger ale, club soda or Italian lemon soda.
Blueberry Smash cocktail
Serves 1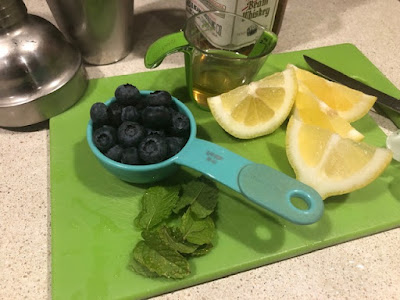 Just a few ingredients needed for this drink. Having a mint
plant or two in pots is a nice addition to the kitchen garden.
Ingredients:
1/2 of a lemon, sliced into thin wedges (mine in the photo were too thick)
1/4 cup fresh blueberries (check for stems before using)
8-10 fresh mint leaves (basil would make a good substitute)
2 ounces bourbon, vodka, tequila or white rum
1 ounce (2 tablespoons) simple syrup* or agave nectar
Ice
Optional garnishes:
Mint sprig, blueberries on a pick or a lemon twist
Instructions:
Place the lemon wedges and blueberries in the shaker, then sprinkle the mint leaves over them. Using a muddler or the thick handle of a wooden spoon, muddle (crush) the mint into the blueberries and lemon wedges until the berries are smooshed and the lemon wedges are broken down.
Add the bourbon, simple syrup, and 6 or so ice cubes to the shaker. Replace the top and shake until it's cold, about 30 seconds. (Stir like crazy if you're making this in a bowl.)
Fill a cocktail glass with ice. Shake the shaker one more time, and using the built-in strainer or a mesh kitchen strainer, strain the drink into the glass. (Add soda here if making it nonalcoholic.) Garnish as desired and enjoy.
*Simple syrup is easy to make in the microwave: Place equal parts granulated sugar and water in a microwave-safe container (glass measuring cup is perfect), zap for 2 to 2-1/2 minutes, then allow to cool. Save any extra in a closed container in the refrigerator. It also can be made by boiling the sugar and water on the stove until sugar is completely dissolved.