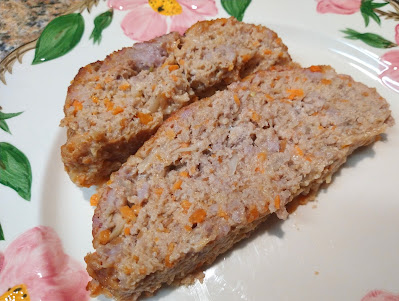 This turkey meat loaf has vegetables in every bite. (Photos:
Debbie Arrington)
Happy Mother's Day! What better gift than a useful and tasty recipe?
Moms are always trying to find ways to get their family to eat more vegetables, and this clever turkey-carrot loaf puts veggies in every bite. Carrots add moisture to the loaf while it's baking. The bread crumbs (preferably fresh) and Parmesan cheese help bind the turkey and carrots together.
Turkey sausage has its own built-in seasoning. If you substitute 2 pounds of ground turkey for the half and half mix of turkey and turkey sausage, add more salt and pepper to taste.
This turkey-carrot loaf also makes a wonderful sandwich.
Turkey-carrot loaf
Makes 8 servings
Ingredients:
1 cup onion, finely chopped (about 1 medium onion)
1 cup carrots, grated (about 2 carrots)
1 cup bread crumbs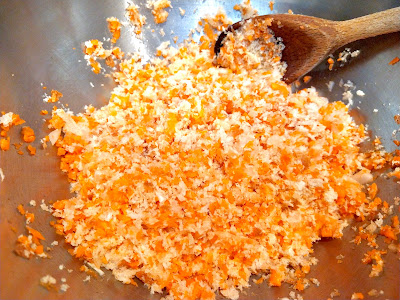 Mix together grated carrots, onions and bread crumbs before
adding turkey and seasonings.
1 cup Parmesan cheese, grated
½ cup milk
1 egg, beaten
2 tablespoons ketchup
1 tablespoon Worcestershire sauce
Salt and pepper to taste
1 pound ground turkey
1 pound ground turkey sausage
Note: May use 2 pounds ground turkey instead of 1 pound each ground turkey and turkey sausage.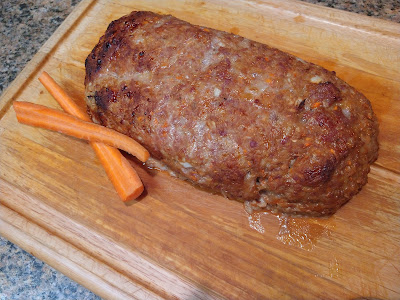 Let the meat loaf rest before serving.
Instructions:
Preheat oven to 400 degrees F.
In a large bowl, combine onion, carrots, bread crumbs and Parmesan cheese. Add in milk, egg, ketchup, Worcestershire sauce, salt and pepper. Crumble ground turkey and ground sausage and mix into onion-carrot mixture. Stir until well combined.
Turn turkey-carrot mixture into a large baking dish or pan and form into a loaf. Bake in 400-degree oven for 10 minutes. Decrease heat to 375 degrees. Bake 40 to 50 minutes more until loaf is golden brown and, when tested with an instant-read thermometer, measures 165 degrees F.
Let loaf rest 10 to 15 minutes before cutting.