This tomato pesto is excellent as a condiment for toasted baguette slices, but it also can be used with pasta, vegetables or grilled meats.
My Juliet tomato plant is having a spectacular year. I've grown this prolific All America Selections winner nearly every summer since it debuted in 1999, and I don't remember having a harvest like this one, with many hundreds of bright-red 1-ounce beauties.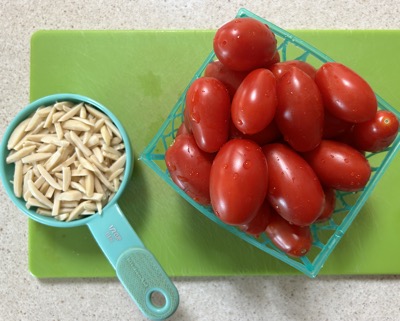 The Juliet looks like a Roma or paste tomato, but it's actually an elongated cherry, one with authentic tomato flavor, not a sugar bomb like some cherries. That makes it perfect for cooking, as well as a great salad or snack tomato. I've used a lot of them already, but still have bowls and bowls. (They keep well, too).
The basil this year also is doing very well, so I looked for ideas on how to use them together. A red Sicilian-style pesto seemed a likely match, since it uses cherry tomatoes and lots of basil. It also uses almonds -- there's a California plus! -- vs. the pine nuts common in green Genovese-style pesto. And to tell the truth, I'm not fond of pine nuts, which can be hard to find and easily get rancid.
So this red pesto, adapted from several sources, is a winner all the way around: Easy to make -- no peeling or seeding of the tomatoes -- and so versatile. We spread it on toasted baguette slices, spooned it over grilled chicken breasts and added it to the accompanying grilled zucchini, too. The leftover sauce from this batch will end up on pasta. I'll be making more to freeze; the Juliets are waiting.
Note on heating up the kitchen: Roasting the tomatoes is not strictly necessary, but doing so adds such flavor that I would not skip that step. And the almonds really do need to be toasted, but that's quickly done on the stovetop.
Sicilian-style tomato pesto
Makes about 3 cups
Ingredients:
1 tablespoon plus 1/3 cup extra virgin olive oil, divided
1 pint cherry tomatoes (about 3 cups), all the same type or a mix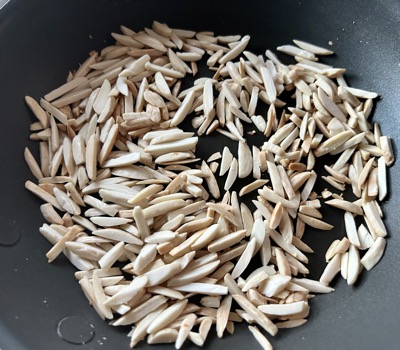 1/2 cup slivered almonds
1 or 2 large cloves garlic, smashed and peeled
1 cup (packed) basil leaves
1/2 cup grated Parmesan cheese
1/4 to 1/2 teaspoon red pepper flakes
1 teaspoon kosher salt
Instructions: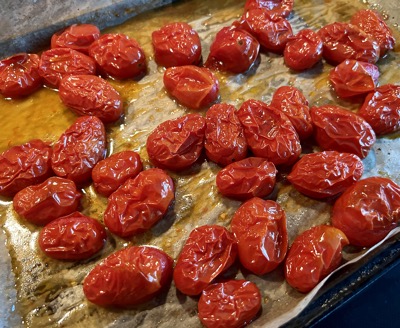 Heat oven to 400 degrees F. Place the washed tomatoes in a bowl and add the 1 tablespoon olive oil, then stir gently to make sure all the tomatoes are coated. Cover a rimmed baking sheet with parchment paper or foil. Arrange the tomatoes on the pan in a single layer. Roast in the oven for about 20 minutes, then set them aside to cool on the pan.
Toast the almonds while the tomatoes are cooking. Place them in a small, preferably non-stick skillet over medium-low heat, and stir often, until they just start to turn golden brown. (See photo) Don't leave the stove while doing this because nuts can burn very quickly. Remove from heat to cool slightly.
To make the pesto: Put the smashed garlic and the toasted almonds in a food processor or blender, and pulse-blend until finely ground, but be sure stop before they become paste. Next, add the basil, the cheese, the red pepper flakes and the salt, pulse-blending until the mixture is uniform. Then add the cooled tomatoes and all the juices from the pan, and pulse until desired consistency is reached.
Finally, with the machine running, slowly add the remaining 1/3 cup olive oil through the chute or hole in the lid until the mixture is emulsified.
Use the pesto immediately, or place in a tightly covered container in the refrigerator and use within a week. Alternately, pack into freezer-safe containers (smaller is better) and freeze for later use. Don't forget to label the container with the date!