The Fresh Bloody Mary has a lighter, more refreshing texture than the classic cocktail, which uses canned juice.
Making fresh tomato juice is easy; all it takes is a blender and really ripe tomatoes.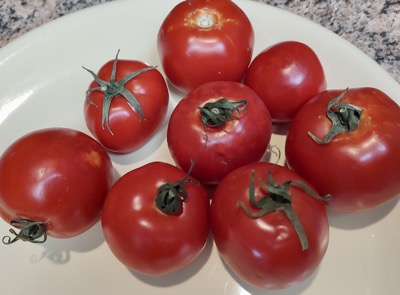 With this recent heat wave, tomatoes are nearly exploding with juice. Besides "juice tomatoes" bred specifically for their high water content, several common fast-maturing varieties work well for juice, too. That includes Early Girl, Ace, Celebrity and Better Boy. Round tomatoes tend to yield more juice than beefsteaks.
Some cooks suggest adding a few plum tomatoes for added body and thicker texture. Beloved for sauces, plum tomatoes such as Roma have fewer seeds and less water than other varieties.
Fresh tomato juice tastes and looks a little different than store-bought processed canned tomato juice. Fresh "squeezed" is not exposed to heat, so it stays a brighter, lighter, pinkish color, depending on variety. It also contains no added sugar or preservatives. Tomato juice can be frozen or used in tomato-based sauces, soups and other recipes.
Peeling the tomatoes is optional; the peel adds more color and fiber. The same goes for straining the juice for seeds.
What to do with that fresh juice? Try it in a Fresh Bloody Mary.
Cheers to ripe tomatoes!
Fresh tomato juice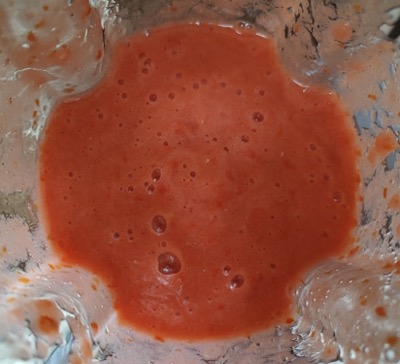 Makes 2 cups
Ingredients:
1 pound very ripe tomatoes
Salt and pepper to taste
Instructions:
Wash and core tomatoes. Chop tomatoes into quarters or eighths, depending on size. Put chopped tomatoes in blender or food processor. With the back of a wooden spoon, mash some of the tomatoes to release some juice. Process until tomatoes become liquified. Add salt and pepper to taste; pulse a few times to blend.
Use immediately or store in refrigerator.


Fresh Bloody Mary
Makes 2 servings
Ingredients:
1 cup fresh tomato juice
3 ounces vodka
Juice of ½ lime
1 teaspoon Worcestershire sauce
1/2 teaspoon hot sauce or to taste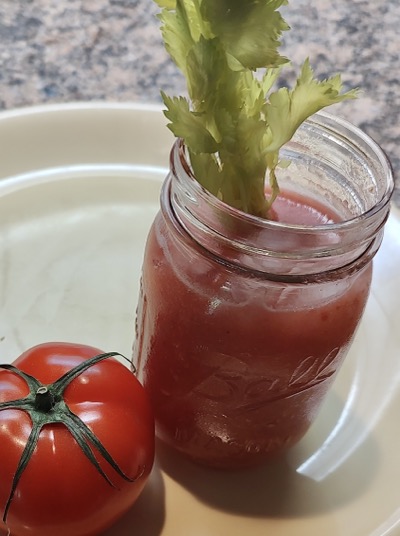 1/2 teaspoon prepared horseradish
¼ teaspoon celery salt
Celery stalks for garnish
Instructions:
In an ice-filled shaker, add all ingredients. Shake until blended.
Pour into tall ice-filled glasses. Add celery for garnish. Enjoy!