Raisins dot this glazed orange scone.
Can't get enough orange? These easy scones are for you.
The secret to delicate scones that melt in your mouth is to treat the dough gently. It may seem like biscuit dough, but don't knead it. Just pat it tenderly into shape with floured hands.
Because there's so much butter, keep all the ingredients as cold as possible. If the dough seems too sticky, refrigerate it 10 to 15 minutes before shaping.
Using a food processor to cut the butter and orange zest into the dry ingredients creates a finely textured crumb with tiny bits of orange flavor in every bite. The orange-vanilla glaze adds another layer of tangy sweetness.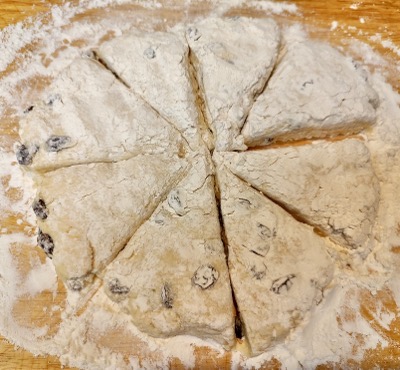 You'll need two medium oranges or one big one. One medium orange yields about 3 tablespoons zest.
Orange-raisin sour cream scones with orange-vanilla glaze
Makes 8 servings
Ingredients:
2 cups all-purpose flour
1/2 teaspoon salt
1 tablespoon baking powder
2 tablespoons sugar
3 tablespoons orange zest, finely grated
6 tablespoons butter, cut into 6 pieces
2 eggs
1/2 cup sour cream
3 tablespoons orange juice
½ cup raisins
Flour for dusting
For glaze:
1 tablespoon butter, melted
2 to 3 tablespoons orange juice
2 tablespoons orange zest, finely grated
1 cup powdered sugar, sifted
1 teaspoon vanilla
Instructions:
Preheat oven to 450 degrees F.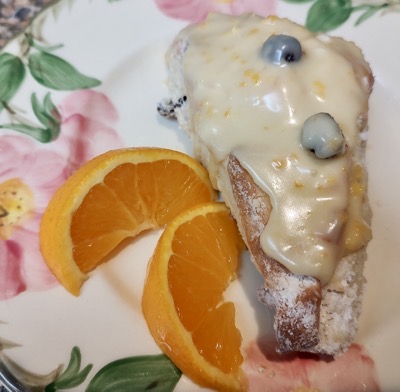 In a food processor, mix together flour, salt, baking powder, sugar and orange zest; pulse to combine.
Add butter; pulse until butter is combined with dry ingredients; about 20 pulses. Set aside.
In a large bowl, beat 2 eggs. Add sour cream and 3 tablespoons orange juice; stir to combine with a few quick strokes. Add dry ingredients, mixing just until combined to form a sticky dough. Gently fold in raisins. If dough is too sticky, refrigerate for 10 to 15 minutes.
Put dough on lightly floured board. With floured hands, gently pat dough into an 8-inch round about 1 inch thick. With a floured knife, cut round into 8 wedges.
Transfer wedges onto baking sheet lined with parchment paper.
Bake scones in a 450-degree oven until golden brown, about 12 to 15 minutes.
Remove from oven. Let cool for 5 minutes on baking sheet, then transfer to a rack.
While scones are cooling, make glaze. Melt butter. Add 2 tablespoons orange juice and 2 tablespoons zest. Add powdered sugar and beat to combine. Add vanilla. If needed, add a little more orange juice to reach desired consistency.
Spread glaze over warm scones. Let stand 5 to 10 minutes to let glaze set.
Serve scones warm.