These five tomatoes show the wild color variation in Brad's Atomic Grape tomato, developed by Brad Gates of Wild Boar Farms.
Meet the man who made the world of tomatoes a much more colorful – and flavorful – planet.
Brad Gates, owner of Wild Boar Farms Exotic Tomatoes, will talk all things tomato during a special appearance at 10 a.m. Saturday, Feb. 25, at Green Acres Nursery & Supply's Sacramento store. Admission and parking are free.
With such eye-catching varieties as Pink Berkeley Tie-Dye and Brad's Atomic Grape, Wild Boar has rocked the tomato world with disease-resistant, rainbow-hued varieties that taste like heirlooms but are far easier to grow. Gates is universally recognized for introducing black- or purple-skinned tomatoes as well as his distinctive striped varieties.
For his Saturday talk, Gates will chat about his new introductions as well as share his insights to tomato success.
"Brad will share his expertise on the latest varieties he is producing for this spring, as well as provide tips and tricks for growing tomatoes in our region," says Green Acres. "He will delve into various growing styles and trellising techniques, and will conclude the event with a Q&A session. ... Whether you're an avid gardener or just curious about growing your own tomatoes, this is an event you won't want to miss!"
Gates, who grows his tomatoes in Solano County, has become the go-to guru for NorCal tomato lovers. He creates his new varieties the old-fashioned way: Breeding two varieties together and watching what happens.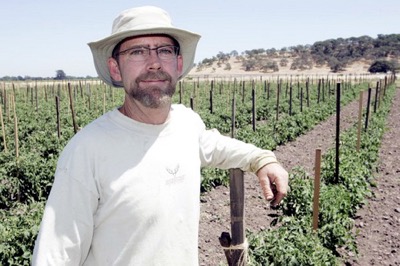 "Our focus is in breeding stunning-looking tomato varieties with extreme flavor," Gates explains on his website. "All of our tomatoes are grown using all-organic growing techniques and are absolutely NOT GMO. We are true believers in using organic and sustainable practices.
"Our tomato varieties are the result of many years of hard work growing ten of thousands of plants, being very picky about seed selection and capitalizing on some amazing gifts from Mother Nature," he adds. "Tomatoes have changed more in the last 10 years than they have in their entire existence. The bar is being raised and tomato lovers can now reap the rewards. I consider these tomato varieties the Heirlooms of the Future."
For more on Wild Boar and its tomatoes, visit www.wildboarfarms.com.
Green Acres is located at 8501 Jackson Road, Sacramento.
Details and directions: www.idiggreenacres.com.