These are very late-blooming roses, a bouquet of Marilyn Monroe and Tamara (an Austin rose).
My roses are refusing to go to sleep. It's been too warm!
It's a trend we've been seeing more and more in California as fall temperatures continue to trend on the warm (and very dry) side. Fortunately, recent chilly nights are finally prompting my bushes to drop their leaves and get some rest.
Even with a few nights close to freezing, most of my roses are still blooming instead of making rose hips, their season-ending fruit. They're stubbornly holding onto their foliage, which often still looks healthy green.
It's a lot harder to prune a bush still loaded with leaves and flowers.
The solution? Go ahead and prune anyway. The only way to get roses back on a more normal schedule is to cut them back and force them to take a winter break.
Pruning is crucial for healthy rose bushes. It's a chance to rid the plant of fungal-bearing foliage and eliminate diseased canes. It improves air flow in and around the bush (another way to cut down on fungal disease) and also keeps bushes from overwhelming their space.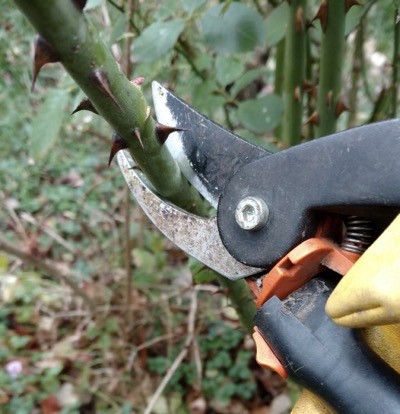 Normal pruning season in Sacramento runs from early to mid-December through early February. By late February, bushes will be pushing out lots of new growth.
What happens if you don't prune? New growth will sprout out of the top of the old growth. If your bushes are already 5 or 6 feet tall, they'll be over 8 feet by May. It's hard to smell your roses if you need a ladder to reach the blooms.
In addition, last season's foliage (on or off the bush) may harbor fungal spores that will immediately infect healthy new growth. And in an effort to shed damaged foliage, the bush may shed all its leaves next spring – when you want the bush to concentrate on flowers.
So, sharpen your pruners and get to work!
In the meantime, bring in those late blooms and make some holiday bouquets. In particular, those chilly temperatures bring out vivid reds and pinks. (Orange hues look fantastic, too.)
Here are tips from master rosarian Baldo Villegas:
* Check watering system to make sure that all roses get adequate water. Decrease or stop watering once rain starts.
* Let hips form to encourage dormancy. They also provide colorful interest in the late fall garden.
* Remove any diseased blooms or fallen petals and foliage from the ground around the roses. That cuts down on fungal disease.
* Acquire the proper tools for rose pruning and winter chores: One pair of bypass pruning shears, one pair of goatskin gloves, one pair of knee pads, one pair of 24-inch loppers, one folding pruning saw.
* Find spots to plant more roses. It's the start of bare-root season, too!