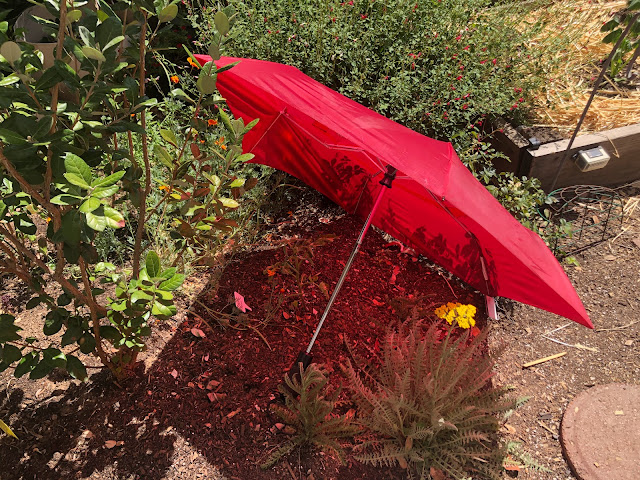 This umbrella is too beat-up to be useful in rain, but it makes excellent
impromptu shade for a plant that's not quite acclimated. (Photo: Kathy Morrison)
Tips for helping plants cope on 100-degree days
Are you wilting? How about your plants?
This week's early blast of triple-digit heat is just a taste of what Sacramento-area gardeners can expect in the months ahead. Scorching summer temperatures likely will seem magnified by cutbacks in irrigation due to drought restrictions.
It's time to beef up on ways to beat the heat – and save your landscape.
Yes, you can save water and help plants cope with weather extremes. Start with these basics:
* Stay hydrated! That applies to both you and your garden. Water early in the day – before 8 a.m. if possible – to cut down on evaporation.
* Cycle and soak. Water needs a chance to soak in, especially if you have clay soil. Otherwise, it will run off (and down the drain) instead of reaching roots. Run your irrigation for a short period. Wait an hour or two. Then, run your system again. The water from the second cycle will reach deeper than the first.
* Mulch, mulch, mulch! A 3-inch layer of straw, wood chips, dried leaves or other organic material will keep soil and roots cooler while conserving moisture.
* Shade sensitive plants and developing fruit on tomatoes, peppers, eggplant and squash. Your harvest can get sunburned. Protect from intense afternoon rays with temporary shade such as burlap draped over trellises.
* Wilting can be normal. Some big-leafed plants such as squash may seem to wilt every hot afternoon; that's OK. They recover overnight. It's when they're still wilted in the morning that it's a problem.
* Check the soil before you water. It may look dry on top, but still have enough moisture in the root zone 6 inches below the surface. Plants can suffer from too much water (especially in containers) as well as not enough.
* Prioritize your watering. Deep-water trees and shrubs, your landscape's most valuable and slowest-growing plants.
* Switch to drip. Drip irrigation puts water where plants need it – at the roots.
Heat is often on the minds behind Sacramento Digs Gardening. Here are links to several past columns with heat-related advice: