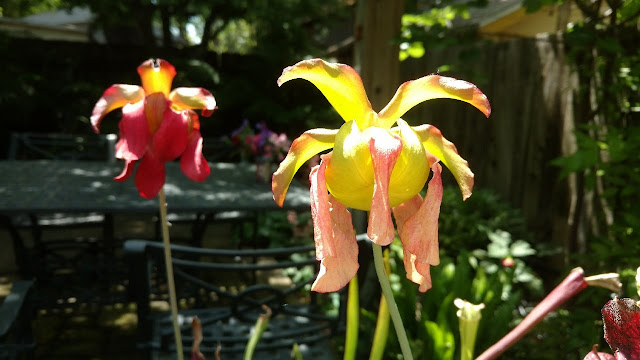 Pitcher plants are among the carnivorous plants that do well outdoors in
the Sacramento area. See more plants at the show and sale this weekend. (Photo:
Debbie Arrington)
In most gardens, bugs eat plants. But these plants eat bugs.
Discover the fascinating world of carnivorous plants during the 52nd annual Sacramento Bromeliad and Carnivorous Plant Society Show and Sale, set for this Saturday and Sunday, June 18 and 19, at Shepard Garden and Arts Center.
See hundreds of intriguing specimens, with several species that are right at home in Sacramento. Pitcher plants, for example, can be grown outdoors in our area. They do particularly well as part of a backyard water feature such as a half wine barrel or small pond; their roots get the boggy conditions they prefer while the plants have access to insects that may fly by.
Because they evolved to grow in such poor soil, carnivorous plants get most of their nourishment from insects that can become trapped in their specialized (often sticky) foliage. Likewise, bromeliads trap moisture and nutrients in the center of their swirl of colorful foliage.
Club members will be on hand to answer questions and offer advice. An excellent selection of plants will be offered for sale. Find pitcher plants, sundews, butterworts and other bug eaters as well as tillandsia (air plants) and bromeliads in a rainbow of hues.
Hours are 9 a.m. to 4 p.m. Saturday and Sunday. Admission and parking are free.
Shepard Center is located at 3330 McKinley Blvd., Sacramento, in McKinley Park.
Details and directions: www.sgaac.org .