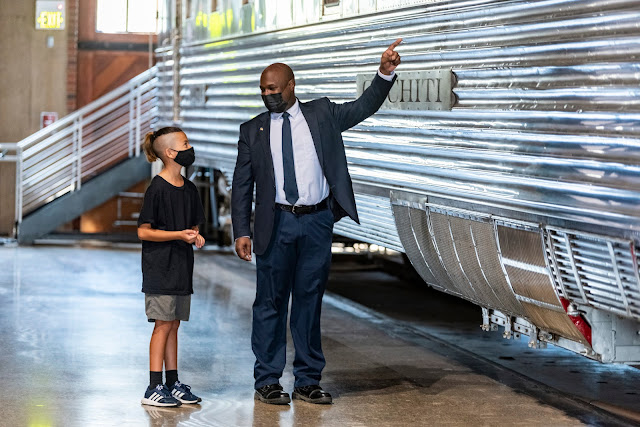 The California Railroad Museum is one of several state parks around Sacramento. The first California State Parks Week celebration runs through Saturday. (Photo by Brian Baer, courtesy California State Parks)
Happy California State Parks Week! Never heard of it? It's brand new – and right now.
Through June 18, this initial celebration of our state's parks system is presented by California State Parks, Save the Redwoods League, Parks California and the California State Parks Foundation. Most of all, it's a reminder of how lucky we are to have such great public resources including some right at home, such as the California Railroad Museum, Old Sacramento, the Governor's Mansion (with its wonderful gardens) and the tree-filled Capitol Park surrounding the State Capitol.
Planners of California State Parks Week picked themes for each day, starting with Tuesday's Land Acknowledgment Day focusing on Native American history and roots. Wednesday (today) is Kids Career Day – who wants to be a ranger? Thursday focuses on Health and Wellness with lots of nature hikes.
Friday is Stewardship Day; learn how to be a better friend to the wilderness and wildlife. Saturday salutes Partnership/Volunteer Day and the people who make park experiences possible.
Stewardship Day in particular has gardening connections. Events focus on such topics as native plants, butterflies, wildlife and invasive weeds.
Events are a mix of in-person, hands-on experiences and online presentations. For a full list, see CAStateParksWeek.org .
Organizers hope that this commemoration will help remind Californians: State parks are your parks.
"The COVID-19 pandemic brought many challenges to California's communities, but it also illuminated the important connection of the outdoors to our physical and mental well-being," say the organizers.
"Parks across the U.S. experienced increased visitation in 2020-21, and California State Parks Week underscores the important role parks play in communities statewide."
Our park system is pretty impressive, they note. "California State Parks protects the best of the state's natural and cultural history; more than 340 miles of coastline; the tallest, largest and among the oldest trees in the world; and deserts, lakes, rivers and beaches. Across 279 parks statewide, there are more than 5,200 miles of trails, 15,000 campsites, prehistoric and historic archeological sites, ghost towns, historic homes and monuments — all waiting to be explored."
Details: CAStateParksWeek.org .