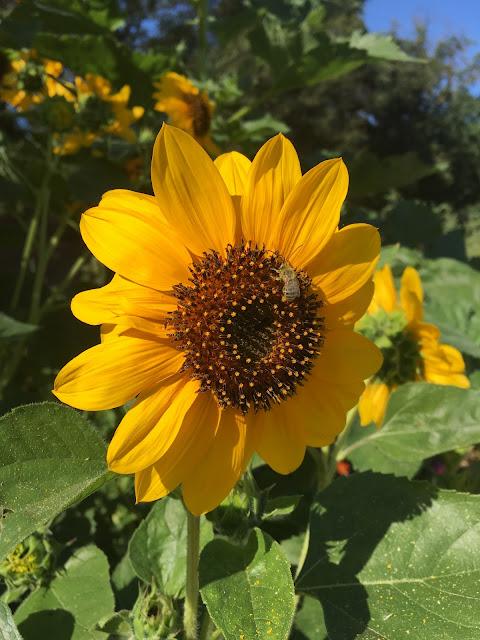 Bees and sunflowers are a natural match. Learn about bees
from Frank Lienert and buy sunflowers (and other plants) at
the meeting of the Sacramento Perennial Plant Club. (Photo:
Kathy Morrison)
Feel the buzz! Learn about beekeeping – and the importance of pollinators – from one of the Sacramento Valley's best-known beekeeping families.
Set for 7 p.m. Thursday, June 23, at Shepard Center, the Sacramento Perennial Plant Club hosts Frank Lienert of Lienert's Honey. He'll discuss the life cycle of honeybees and beekeeping. The public is welcome; admission and parking are free.
Lienert's father started beekeeping more than 60 years ago in Davis. One hive – purchased from Sears & Roebuck to pollinate a boysenberry patch – turned into a full-time family business. With about 10 different varietals (clover, orange blossom, sage, etc.), Lienert's Honey can be found at local grocery stores and farmers' markets. (For more information, see www.lienertshoney.com .)
Help the bees in your own landscape – and add some summer color, too! At this same meeting, the Perennial Plant Club will hold a summer plant sale.
Say the organizers, "Locally grown and selected to add color and floral zing to our summer gardens as well as food for our pollinators, (the sale includes) Ageratum, Black-Eyed Susan, Calendula, Cosmos, Gomphrena, Strawflower, Sunflower, Tithonia, Zinnia, Feverfew, Foxglove and Hollyhock plants. They also make great cut flowers. " (Good timing, too: This week is National Pollinator Week.)
Annuals are priced $2 each or three for $5. Perennials are $3 each or two for $5. Bring your own box or bag to take home your purchases. Cash only.
Come early and bring your pruners that need sharpening or containers that need holes; at 6:30 p.m., tool sharpening and pottery drilling will be available for a donation.
Shepard Garden and Arts Center is located at 3330 McKinley Blvd., Sacramento, in McKinley Park.
Details: https://www.facebook.com/sacperennialplantclub/ .