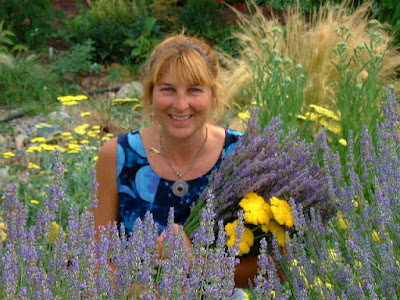 Rose Loveall sells many varieties of lavender as
well as other plants and herbs attractive to
pollinators. (Photo courtesy Morningsun Herb Farm)
It's National Pollinator Week and one of our favorite destination nurseries is celebrating with a big sale.
To help attract more pollinators to NorCal gardens, Morningsun Herb Farm in Vacaville is offering deep discounts: 25% off all plants and seeds. In addition, the sale includes 15% off garden art, wind chimes, soils and fertilizer.
With gardens in full summer bloom, Morningsun is located about 40 miles west of Sacramento just off Interstate 80. Right now, see (and smell) five varieties of lavender plus dozens of fragrant herbs and flowers. Morningsun is well known for its scented geraniums and water-wise perennials.
Got room in your veggie bed? Morningsun grows dozens of varieties of tomatoes and peppers including many heirlooms.
Owner and herb expert Rose Loveall is a treasure. She can recommend just the right herbs for any landscape.
Some herbs, such as lavender, are naturally bee magnets. But many others also have a lot of potential to attract bees, butterflies and other pollinators.
Morningsun is open 9 a.m. to 5 p.m. Tuesday through Sunday. In extreme heat, the nursery may close at 2 p.m. The Pollinator Sale ends Sunday, June 26.
Morningsun is located at 6137 Pleasants Valley Road, Vacaville.
Details: https://morningsunherbfarm.com or 707-451-9406.