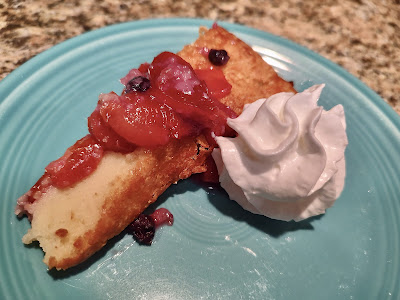 A dessert made for and by summer: Tutti frutti
clafoutis. (Photos: Debbie Arrington)
Early summer brings an abundance of juicy plums, apricots, peaches, cherries and their crosses such as pluots, apriums and pluerries. Don't forget blueberries, blackberries, strawberries and all those other sweet little gems.
Don't have quite enough of one kind to make a pie or a cake? It's time to mix and match.
Tutti frutti means "all fruits," as in all the different fruits you may have on hand. And this dessert mixes them up deliciously.
Clafoutis, a custard-like cake (or a cake-like custard), originated in central France. Traditionally, it's filled with cherries or plums.
This version can use cherries and plums – plus peaches, apricots and pluots; whatever you have on hand. A half cup of blueberries adds more color and little bursts of berry flavor; other berries would do the same trick.
Almond flour adds richness and flavor. The vanilla yogurt substitutes for the traditional heavy cream.
Have fun trying different combinations. Served warm or cold, this clafoutis works for breakfast, too.
Anything goes: Put together whatever summer fruits

you have for this recipe. Debbie used plums,
pluots, apricots and blueberries.

Tutti frutti clafoutis
Makes 6 to 8 servings
Ingredients:
Butter and sugar for pan
2 cups mixed soft fruit (plums, apricots, peaches, cherries, pluots, etc.)
½ cup blueberries or other berries
¾ cup sugar (divided)
3 eggs
1/3 cup almond flour
1/3 cup all-purpose flour
¼ cup milk
¾ cup vanilla yogurt
2 tablespoons Demerara or white sugar (for topping)
Whipped cream (optional)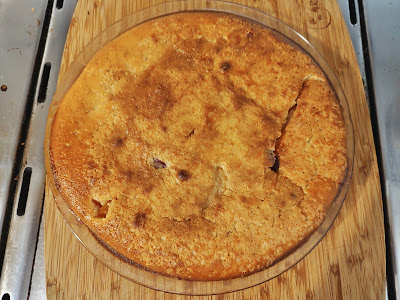 The puffy top hides the array of fruit.

Instructions:
Preheat oven to 375 degrees F.
Prepare a 9-inch pie pan. Butter pan, then dust with sugar. Set aside.
Prepare fruit. Pit and slice into similarly sized pieces. In a bowl, toss fruit and blueberries with ¼ cup sugar. Set aside.
In a mixing bowl, beat eggs with an electric mixer until foamy. Add ½ cup sugar, beat some more. Sift together almond and all-purpose flour; add to egg mixture. Beat to combine. Add milk and yogurt. Beat to combine. Batter will be thick and creamy.
Arrange fruit on the bottom of the prepared pan. Pour batter over fruit.
Sprinkle Demerara or white sugar over top.
Place pan on a cookie sheet (to catch any overflow) and slide into oven.
Bake at 375 degrees for 40 minutes or until golden brown and puffy.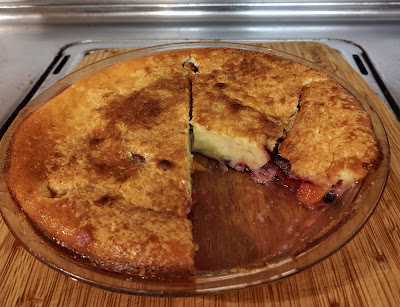 The clafoutis makes a great dessert or a delicious brunch treat.
Remove from oven and let cool at least 30 minutes before serving.
Serve warm or cold, with whipped cream if desired. Refrigerate any leftovers.