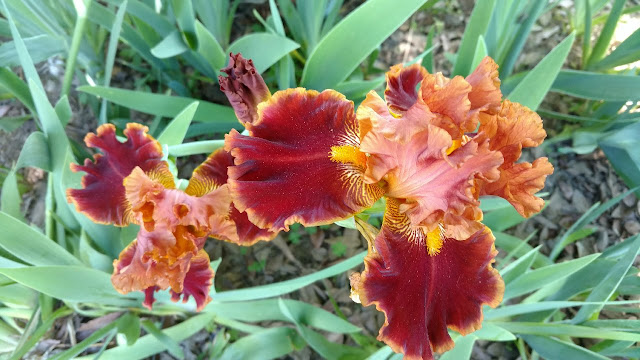 To get beautiful iris blooms like this, plant rhizomes in midsummer. Find a huge selection of rhizomes at the Sacramento Iris Society sale this weekend. (Photo: Debbie Arrington)
Bearded irises rank among the best drought-tolerant perennials for Sacramento gardens. And here's your chance to get a bunch to plant now.
On Saturday and Sunday, July 16 and 17, the Sacramento Iris Society will host its annual rhizome sale at Shepard Garden and Arts Center. Think of it as a bare-root sale for irises; rhizomes are irises' fleshy underground stems.
Mid to late summer is the best time to plant (or divide and transplant) bearded irises, which is why this plant sale is a mid-July staple. Bearded irises need very little summer irrigation, once established. Planted now, they'll bloom next March and April.
The iris is named for the Greek goddess of the rainbow because the flowers come in so many hues. Find scores of varieties in every color (and many dazzling combinations) from pure white to (almost) pure black. Reblooming irises – which produce flowers in both spring and fall – will also be available.
Sale hours are 9 a.m. to 3 p.m. each day. Parking and admission are free. Come early for the best selection. Club members will be on hand to offer advice, not just in choosing varieties but how to care for those rhizomes once you get them home and how to keep them thriving for years ahead.
Shepard Center is located at 3330 McKinley Blvd., Sacramento.
Details: https://sacramentoirissocietydotcom.wordpress.com/