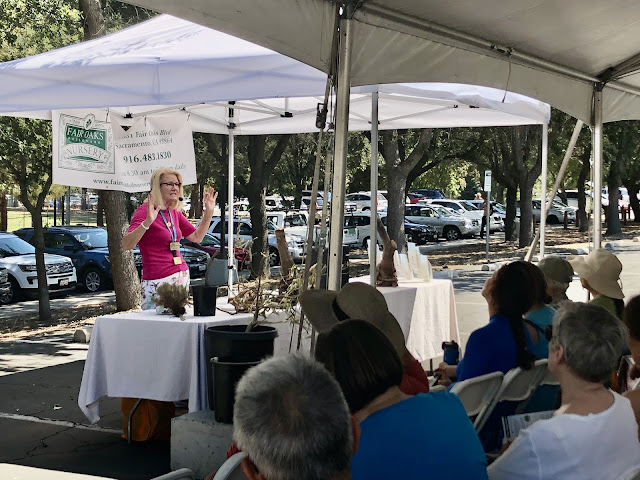 Pam Bone, who was a key speaker at Harvest Day 2019, will be back this
year to talk about "Selecting Trees for the Home Landscape in a Changing Climate." (Photo: Kathy Morrison)
Three years is a long time for a gardener. That's enough time to grow 3 crops of garlic and 3 of snap peas, for a stick to turn into a lush grapevine, or for a navel orange tree go from a flush crop to a poor year and back to flush. It represents a lot of compost into the bin.
Since August 2019, when they last held an in-person Harvest Day, the Sacramento County master gardeners have not been idle. Two virtual Harvest Days, with live online talks and several recorded videos, were presented in 2020 and 2021. In-person Open Garden Days started back slowly last fall.
But Harvest Day is the biggest event of the master gardener year, and to have it back -- and happening in just nine days -- is a mark of survival. (My own master gardener class of 2020 has never worked the event live; we are looking forward to finally adding it to our MG experiences.)
So it's a great day to come out to the Fair Oaks Horticulture Center, 8 a.m. to 2 p.m. Saturday, Aug. 6. Here's a taste of what's in store at this big, free celebration of gardening:
Speakers:
8:30 – 9:15 a.m. "Selecting Trees for the Home Landscape in a Changing Climate," Pam Bone, Horticulturist, UC Master Gardener
9:45 – 10:30 a.m. "Healthy Soil/ Soil Preparation for a Healthy Landscape," Kevin Marini, UC Master Gardener Coordinator Placer/Nevada Counties
11:00 – 11:45 a.m.  "Make Your Landscape Wildlife Friendly," Roxie Jones, UC Master Gardener, FOHC Wildlife Garden Lead
"Mini" talks will be held throughout the day at various spots, covering such topics as "How to Create a Worm Bin," "Succulents: How Much Water and Sun Do They Need?" "Straw Bale Gardening" and "Herbs: Amazing Plants for Low Water Use Gardens." The full list is available here .
Harvest Day also features about 30 education tables, many supporting Harvest Day's underlying theme of "wise water use." Sacramento Digs Gardening will be in attendance, too -- come by and say hello!
Several vendors will offer plants and garden art, and the master gardeners' 2023 Garden Guide and Calendar will make its debut at the sales table. Scheduled food trucks include Java Johnny's, Chando's Tacos, World Fare and Sweet Tooth Ice Cream Cart.
And if you have a gardening question or problem, bring it to the Ask a Master Gardener table at the event. Pretty sure that, with so many experts on hand, you'll get an answer.
The Fair Oaks Horticulture Center is in Fair Oaks Park, 11549 Fair Oaks Blvd. just south of Madison Avenue in Fair Oaks.
For more information on master gardener events, visit https://sacmg.ucanr.edu/