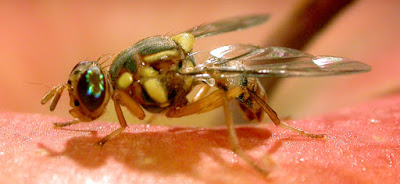 The oriental fruit fly can devastate all kinds of crops
if it takes hold in the region. (Photo courtesy Martin
Hauser/ California Department of Food and Agriculture)
Have you seen this nasty little insect? If so, call the county ag office immediately.
Four male oriental fruit flies ( Bactrocera dorsalis ) were discovered in south Sacramento County near Wilton, according to the Sacramento County Agricultural Commissioner. That's brought out an all-points alert and kicked into action an immediate eradication program while the county searches for more.
The invasive bugs, which eat more than 230 different crops, were first detected July 19, says the county. Dozens of traps have been placed in street trees in concentric circles extending 4.5 miles in each direction from the original finds. If more oriental fruit flies (or OFF) are found, that could trigger a quarantine.
In addition, the bug hunters have put out bait, mostly in street trees 8 to 10 feet off the ground, in a territory stretching 1.5 miles from the original detection. Those traps are baited with male OFF attractant plus a dash of the organic pesticide Spinosad. This combination has been successful in stopping other OFF infestations before they could grow.
The U.S. Department of Agriculture describes the insects this way: "Visible adult flies: somewhat larger than a house fly, the body color is variable but generally bright yellow with a dark "T" shaped marking on the abdomen. The wings are clear. The female has a pointed slender ovipositor to deposit eggs under the skin of host fruit. Visible larvae within infested fruit: legless, white to yellowish-white, and grow to a length of 0.4 (or 2/5) inches inside the host fruit."
Officials suspect that these particular fruit flies may have been accidentally transported to Sacramento County in fruit or vegetables brought illegally to California from OFF-infested regions of the world such as Taiwan and Hawaii.
"Invasive non-native fruit flies are serious pests for California's agricultural industry and backyard gardens," said Sacramento County Agricultural Commissioner Chris Flores. "These recent detections on the heels of a recent oriental fruit fly detection in the community of Rancho Murrieta reminds us that we need to remain vigilant in protecting our agricultural and natural resources. When traveling abroad or mailing packages to California, we urge the public not to bring back or ship fruits and vegetables as they are pathways for oriental fruit flies and other invasive species entering our state."
Among the California crops at risk from OFF include apples and pears, all stone fruits, citrus, dates, avocados, peppers and tomatoes. According to the ag office, damage occurs when the female fruit fly lays her eggs inside the fruit. The eggs hatch into maggots, which tunnel through the flesh of the fruit and make it unfit for consumption.
If you think you've seen an oriental fruit fly, contact the Sacramento County Agricultural Commissioner's office at 916-875-6603 or the California Department of Food and Agriculture's Pest Hotline at 1-800-491-1899.