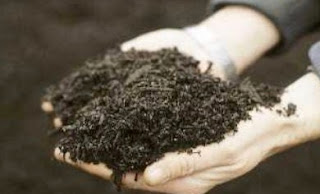 Here's the end result of composting:
"garden gold" to enrich the soil. (Photo
courtesy UCCE)
Time to make some garden gold!
Learn how to compost during a free class Saturday, Aug. 20, offered by the UCCE Master Gardeners of El Dorado County.
From 9 a.m. to noon Saturday at Sherwood Demonstration Garden in Placerville, this hands-on workshop will tackle all the basics: What to put into the compost, which methods to use and how to speed up the process.
Why compost?
"Compost provides valuable nutrients for your garden soil," say the master gardeners. "Compost helps retain moisture which saves water, suppresses weeds, prevents soil erosion, and loosens compacted soils for better drainage and water retention."
Under new California law, consumers are encouraged to separate food waste from other trash. Food waste rotting in landfills is a major cause of methane, a major greenhouse gas. Communities will be required to turn collected food waste into compost or burn it as biofuel.
Why not cut out the middleman and make your own compost at home?
"It is rewarding to know you are turning waste into a nutrient-rich organic material for your garden," add the master gardeners.
Sherwood Demonstration Garden is located at 6699 Campus Drive, Placerville, on the El Dorado Center campus of Folsom Lake College.
This workshop comes with a bonus: Sherwood Garden is also open for tours Saturday morning.
"Our demonstration garden will be open for viewing and tours as well as volunteer Master Gardeners on site to answer your home gardening questions," say the hosts.
For details and directions: https://mgeldorado.ucanr.edu/ .