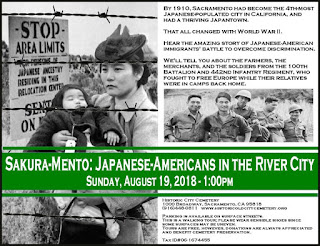 City Cemetery focuses on little-told chapter of local history
A century ago, Sacramento was home to a thriving community known as Japantown. Residents of Japanese ancestry were an integral part of the fabric of the city and the Central Valley.
Then, World War II changed everything.
Sunday at 1 p.m., join guides at the Historic City Cemetery to learn tales of "Sakura-mento" and the history of Sacramento's Japanese community.
Sakura (cherry blossoms) are an enduring symbol of Japanese culture. By 1910, Sacramento had the fourth-largest Japanese-American community in California. But in February 1942 as a reaction to the bombing of Pearl Harbor, Executive Order 9066 forced the incarceration and relocation of more than 110,000 Japanese Americans living on the West Coast.
What happened to Japantown's families? Who were they? How did they cope with internment camps? And what happened after the war?
This very special free tour will explore those stories and more. Meet at the cemetery's main gate, 1000 Broadway, Sacramento. Wear comfortable shoes. For more details:
www.historicoldcitycemetery.org
.