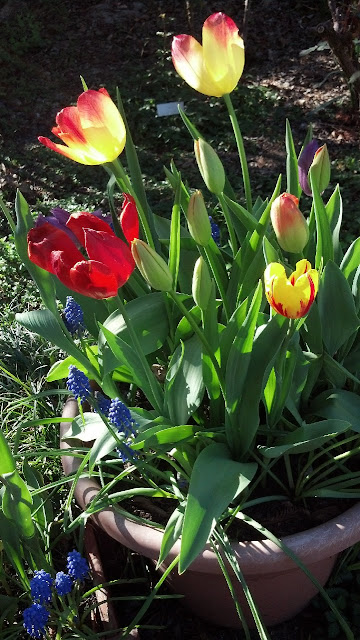 This is a good time to plant several spring-
blooming bulbs in a large container.
(Photo: Debbie Arrington)
Cut down on work, increase enjoyment with these tips
Gardeners work hard enough. Labor Day should include some rest and relaxation. The less work, the more time to smell the roses and enjoy your efforts.
With that in mind on this holiday, here are five ways to save labor (and time) in the landscape this fall:
1. Mulch, mulch, mulch! This simple step saves moistures, cuts down on weeds and helps plants cope with fluctuating weather. Use organic material (straw, leaves, bark, etc.) and mulch adds nutrients to the soil, too.
2. Make use of fallen leaves. All those leaves that will soon be coming down make excellent mulch. Instead of raking them up, use the lawn mower to chop them up. Then, spread this mulch around trees and shrubs.
3. Use bigger pots. The larger the container, the less frequently it needs watering. It also makes a greater visual impact and allows plants more room to grow.
4. Choose lower-maintenance, slow-growing plants. Tired of pruning hedges? Constantly edging borders? Mowing the lawn? Transition your landscape to plants that need less fuss and snipping.
5. Dig once, plant a lot. Fall is planting season for daffodils, tulips, hyacinths and other spring-blooming bulbs. Instead of planting each bulb separately, dig a wide hole to the depth needed and plant several bulbs together. This same idea works for annuals and such cool-season vegetables as lettuce. Dig a single trench, then plant a whole row. This method also allows for working compost, bone meal or other amendments into the soil all at once instead of little hole by hole.