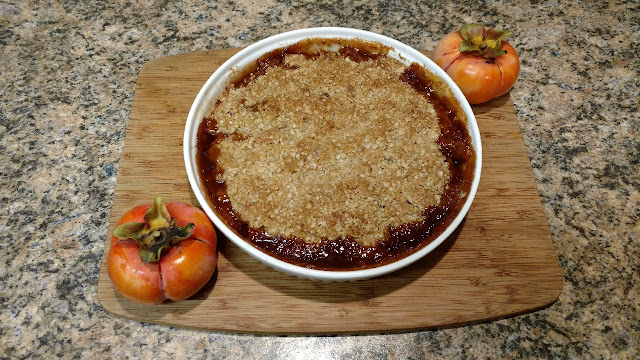 Persimmon crisp makes use of Fuyu persimmons in their just-picked crisp stage. (Photos: Debbie Arrington)
Recipe: December is peak season for this unusual fruit
Fuyu persimmons -- those flat, fat cousins to pointy Hachiyas -- are easy to love.

Crisp and crunchy or soft as custard, Fuyus can be eaten right off the tree or weeks later. Think of them as bright orange-fleshed apples, but with a very different flavor.

Ideally suited to Sacramento's climate, Fuyus grow on an attractive small tree -- a member of the ebony family -- with colorful red and orange fall foliage. The shiny orange fruit are pretty as well as delicious. That makes Fuyu a good choice for edible landscaping.

Fuyu persimmons are a much more versatile fruit than Hachiyas, which can be eaten only when their tannin-packed pulp turns to jelly. (That neutralizes their pucker power.)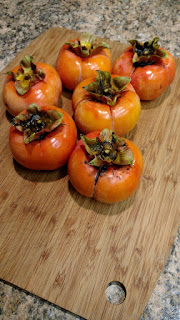 Fuyus can be eaten when crisp

Yet overwhelmingly, most persimmon recipes call for mashed pulp, not crisp sliced fruit.

I have a handsome Fuyu tree packed with fruit, which sent me searching for possibilities to cook now -- not in a few weeks after the fruit softens to pulp stage. After some experimentation, I came up with this dessert. This crisp is meant for crisp persimmons, not the ooey, gooey ones.

Besides on backyard trees, Fuyus also are in abundance at farmers markets. December is their peak season.

Fuyus taste very much like Hachiyas but without the tannin bite. It's a delicate sweetness like floral honey. Sliced and cooked, the fruit retains its bright orange color.
Like extra-juicy apples, Fuyus need some thickener such as cornstarch or tapioca to absorb that juiciness when cooked. Lemon juice helps balance out the overt honey sweetness.
Crisp persimmon crisp
Makes 8 to 12 servings
Ingredients:
6 Fuyu persimmons, peeled and thinly sliced (about 6 cups)
Zest and juice of one lemon
2 tablespoons cornstarch
1/2 cup white sugar
1/2 cup brown sugar
1 teaspoon cinnamon

For topping:
1/2 cup brown sugar
1/2 cup flour
1 cup quick oats
1/2 cup (1 stick) butter or margarine

Instructions:
Preheat oven to 375 degrees F. Butter a 10-inch pie plate or 9-inch square baking dish.

Toss sliced persimmons with lemon juice. In a large bowl, combine cornstarch, sugars, cinnamon and lemon zest. Add persimmon slices and mix to coat. Set aside.

Make topping. Combine brown sugar, flour and oats in a bowl. Cut in butter or margarine until crumbly mixture forms.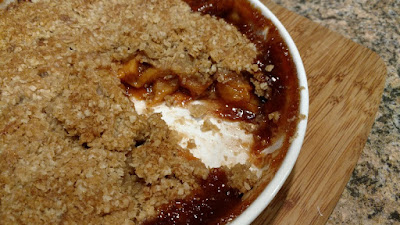 This may look like peach crisp, but it's made with persimmons fresh off the tree.
Transfer persimmon slices to prepared baking dish. Top with crumble mixture.

Place baking dish on top of a rimmed cookie sheet (just in case crisp bubbles over). Bake at 375 degrees for 45 minutes or until top is browned and juices bubbling.
Serve warm or cold with whipped cream.