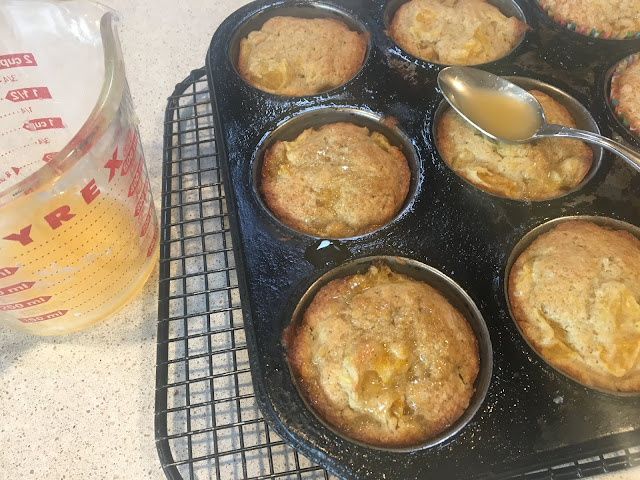 A light glaze is optional for these spiced fresh mandarin muffins. (Photos: Kathy Morrison)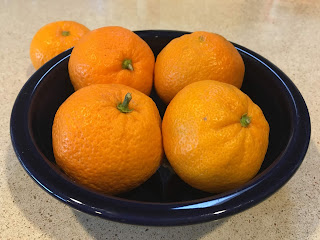 These Satsumas grew in Placer County.
When December turns drab and gray, it's lovely to have ripe citrus fruit to liven up the day, not to mention our taste buds.

Right now mandarins are the best, freshest citrus you can find. Placer County of course grows wonderful mandarins, and even grocery stores carry the local fruit.

I wanted to put mandarins into something baked, and found a muffin recipe to adapt on the Placer growers' site, www.mountain mandarins.com . Most mandarin recipes out there, even fruit salads, are written for canned mandarin segments. But why use those when fresh is available? I was determined to figure this out.

I adjusted ingredients, since the original instructions were written for canned segments, though the recipe listed fresh. I also upped the spices in the batter and changed the topping to two options that are less messy. (The original involved dipping baked muffins in butter and then in cinnamon sugar.)

The result is a soft, spicy muffin that isn't too sweet and has enough mandarin flavor. Satsumas or Clementines (often called Cuties) will work in this recipe. They're mostly seedless, but not entirely, so watch for seeds when you chop up the segments.

I used some almond meal in my version here, but next time I might try more of a mix of flours, perhaps adding some fine cornmeal (which is always lovely with citrus) and some white whole wheat flour to the all-purpose flour.

A note about baking time: I don't usually line the pan with paper cups when baking muffins, but I tried liners for half the batch. There's a lot of liquid in hidden in the fruit pieces, so don't take the muffins out too soon. They surprisingly firmed up faster in the paper cups than they did in the greased portion. If the tops of your muffins look done, pop one muffin out with a knife and check the bottom. If it seems too soft (and, if in greased cups, not brown enough), put the whole pan back in the oven for at least 5 minutes.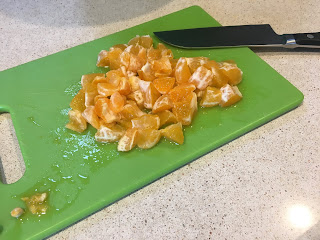 Watch for
the few seeds that might be lurking.
Spiced fresh mandarin muffins

Makes 12

Ingredients:

4 to 5 medium mandarin oranges, peeled and divided into segments
1 1/2 cups all-purpose flour, or 1 cup all-purpose flour and ½ cup almond meal
1 3/4 teaspoons baking powder
1/2 teaspoon salt
1/2 teaspoon nutmeg
1/2 teaspoon allspice
1/2 cup sugar
1/3 cup solid shortening
1 egg, slightly beaten
1/3 cup milk or almond milk
Topping options:
Sparkly sugar for sprinkling
or
1/4 cup powdered sugar, to be mixed with 1-2 tablespoons reserved mandarin juice for glaze

Instructions:

Preheat oven to 350 degrees. Prepare a 12-cup muffin pan by lining with paper cups or greasing lightly.

Cut or chop mandarin segments into pieces (about 4 per segment), watching for and removing seeds. Also remove any larger stringy bits of pith, but don't worry about removing all of it. You should have about 1-⅓ cups segment pieces. Drain off some of the excess juice, about 1 to 2 tablespoons. This can be used for glaze if desired.

Mix flour(s), baking powder, salt, nutmeg, allspice and sugar. Cut in the shortening using a pastry blender or two knives until it is evenly distributed through the flour.

Stir together the egg and milk, and add all at once to the flour mixture, mixing lightly. Gently stir in the orange segments, just until the mixture is evenly moist.

Divide the batter between the prepared muffin cups. Sprinkle on sparkly sugar if using. Bake 25 minutes or until golden brown. (See baking time note above.)