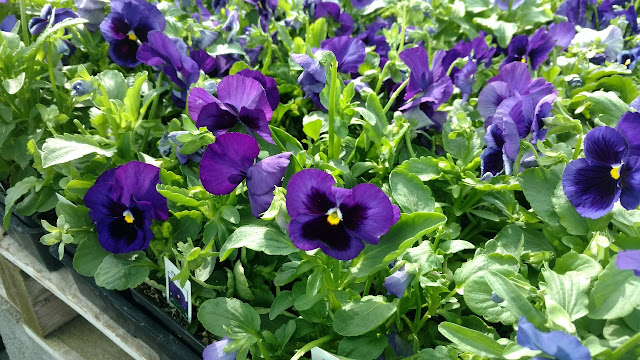 Plant pansies now to instantly brighten up the winter garden. (Photo: Debbie Arrington)

Focus on holiday plants; keep them looking fresh
With the holidays upon us and rainy weather, we'll be more focused this first week of winter indoors than outside.
The key to keeping holiday plants looking fresh? Make them feel comfortable.
* Treat cut Christmas trees like a giant flower. They need water; otherwise, they dry out and become more susceptible to fire danger. (Dry trees also shed needles like crazy.) Check the water bowl under the tree daily; a 6-foot tree drinks a lot.
* If you have a living Christmas tree, make sure it stays watered. Check the soil; it should be moist, not soggy. Try to get these young evergreens outdoors as soon as possible. More than a week inside can weaken the tree.
* Poinsettias can be fussy. They like it cool; six hours of indirect light in the low to mid-60s; dark nights at 55 degrees. Make sure to take off the foil wrapper or punch holes for drainage. More on poinsettias here:
https://bit.ly/2PW6Moz
When you do get outside:
* Prune non-flowering trees and shrubs while they're dormant.
* Turn fallen leaves into mulch. Chop up larger leaves with a lawn mower.
* Rake and remove dead leaves and stems from dormant perennials.
* Bare-root season is under way. Plant bare-root berries, kiwifruit, grapes, artichokes, horseradish and rhubarb. Roses and fruit trees are available, too. No time to plant? Hydrate the roots in a bucket of water with 1 teaspoon bleach. They'll keep for at least two or three days.
* Brighten your new year with winter bloomers such as calendulas, Iceland poppies, pansies and primroses.
* Get any remaining spring bulbs in the ground.
* Transplant lettuce, cabbage, chard, kale, peas and greens.
* Plant from seed, cloves or sets: peas, fava beans, greens, beets, radishes, onions and garlic.