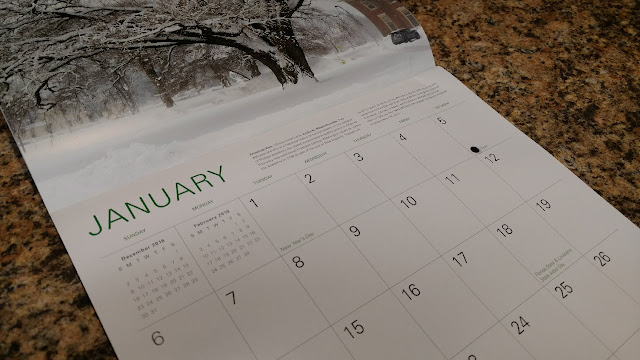 For its customers, Davey Tree created this 2019 calendar of big trees, with handy big spaces for making notes. (Photo: Debbie Arrington)
Calendar an important tool for garden success
Happy new year and new month!

January in Sacramento is usually a lot like December; both months average high temperatures of 54 degrees. January nights are slightly warmer; averaging 39 degrees, one more than December.

January usually is Sacramento's rainiest month, averaging more than 3.6 inches. It rarely gets hot; Sacramento's December record is 75 degrees. But it can get cold; this is our frostiest month, too.

But what will it be like in 2019?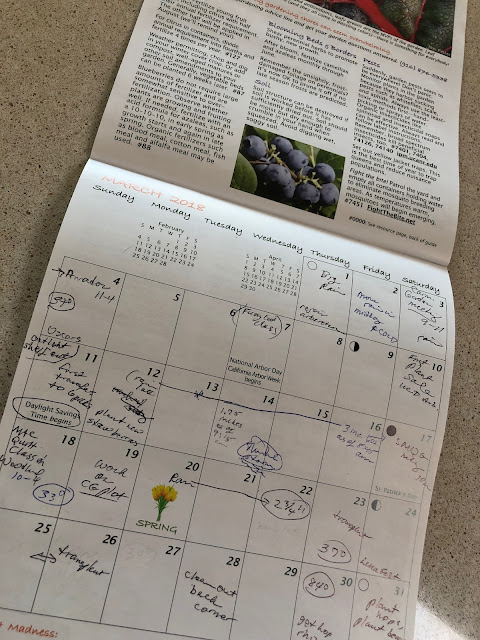 Here's a page from Kathy Morrison's 2018 calendar: March temperatures in Carmichael
got down to 33 degrees, but shot up to 84 by the end of the month. (Photo: Kathy Morrison)
Keeping track of variations in weather and other factors can help explain how our gardens grow. A calendar becomes an important tool, especially for us busy (and forgetful) gardeners. It helps you remember as well as plan.

With big spaces, a monthly calendar serves as an at-a-glance garden journal, no app or power required. Jot down when you do something -- prune, spray, feed, plant, deep water, etc. You'll thank yourself later when you try to remember those dates.

Here's why a garden journal is important: If you stumble on something that works, you want to know what it was. That way, you may be able to repeat that success.

Make notes of significant weather -- rain, fog, very low or high temperatures, wind storms, frost. Changes in weather or unusual events may explain changes in plants. Those notes also may jog your memory when looking for answers.

After that, be as detailed as time and space allows. Name what varieties were planted (in case you want to plant them again). Note first harvests, and late harvests, too.
Still need a 2019 gardening calendar? Local UCCE master gardeners offer first-rate calendars and gardening guides. Find more about them here:
https://bit.ly/2GPCEM6