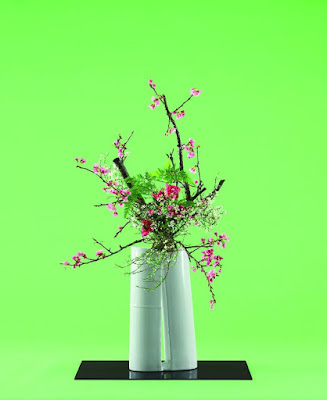 The creative art of ikebana will be the focus of a special
demonstration Monday at the Shepard Center. (Photo courtesy
Demonstration highlights ancient art of flower arranging
Learn a new appreciation of an ancient art during a special ikebana demonstration at noon Monday, Sept. 16, at Shepard Garden & Arts Center.
Professor Sue Kasa will show the techniques of saga goryu ikebana, a form that dates back to 9th-century Japan. According to legend, Emperor Saga picked a cluster of chrysanthemums. He arranged them in three tiers, representing heaven, earth and man. That three-part approach has been at the essence of this style of ikebana ever since.
Nationally known for her ikebana work, Kasa recently had her floral arrangements displayed at the Freer Gallery and the Sackler Gallery in the Smithsonian Institution in Washington, D.C.
This local demonstration will be hosted by the Sacramento chapter of Ikebana International. Admission and parking are free, and the public is welcome. Program will include tea and light refreshments.
Often translated as "Japanese flower arranging," "ikebana" means "to preserve living flowers" or "to preserve the essence of nature in a vase." Although considered a creative art, ikebana has clear and formal rules. Practitioners can spend a lifetime learning and refining their art.
Shepard Center is located at 3330 McKinley Blvd., Sacramento.
To learn more about local ikebana classes:
ikebanasacramento@gmail.com
.
Details:
www.ikebanasacramento.org
.