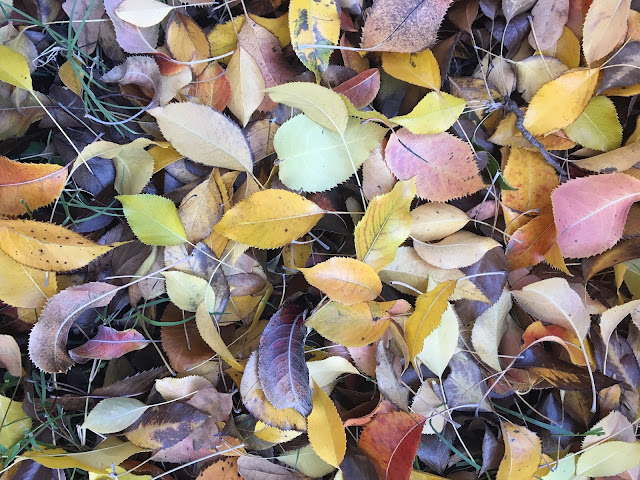 All those leaves may be an annoyance, but they're also a great resource for your garden: Mulch or compost them. (Photo: Kathy Morrison)
Make use of this abundant fall resource
Some of the best mulch for your garden is most likely piling up around your yard.
Fall leaves are nature's mulch. In forests and woods, layers of leaves protect tree roots during cold months and replenish soil nutrients.
Take a cue from nature; instead of raking away this resource, mulch your leaves.
Those leaves are good for your soil and plants. Even better, they're free and right there, ready to recycle.
When mulching, use leaves free of disease or pests. For example, don't mulch or compost peach foliage infected with leaf curl. If birch leaves are super sticky, they most likely harbor aphids.
That still leaves a lot of leaves. Small or easily crumbled foliage works best. It can be applied directly to vegetable and flower beds or spread under trees and shrubs. Spread a single layer 2 to 3 inches thick or more.
Chop up large leaves such as sycamore with a lawn mower. Spread the leaves in a single layer on the lawn, then mow over the leaves. After a couple of passes, the leaves are mulch ready.
Save some leaves for composting, too. Dried fall leaves add the "brown" to balance greens in an active compost pile. If you have space, stash a few big bags of leaves to add to your compost next spring.
Speaking of leaves, make sure your gutters are clear. Sacramento's first rain of leaf season is expected Tuesday night. Avoid clogging drains by moving street piles up onto lawn. It only takes four or five large and well-placed leaves to clog a storm drain and flood a street.